Beverly Hills Car Club Services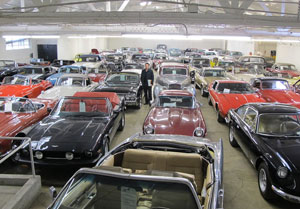 Located in Los Angeles, CA, Beverly Hills Car Club is a prestigious automotive buying/selling operation. On the selling side of the house, Beverly Hills Car Club is home to an enormous inventory of classic vehicles spanning a broad spectrum of eras, makes, models, and conditions. Whether you are looking for a vintage vehicle of European extraction some five decades old, or a rundown project vehicle from a generation past, the Beverly Hills Car Club offers its patrons options on both ends of the spectrum.
Budget considerations and buyer preferences are of the utmost importance to Alex Manos and his esteemed team, and the club has countless testimonials to support as much. Car buying is often burdened with a stigma, deservingly so by some measures. What the Beverly Hills Car Club has done to distinguish itself is in preventing any such stigma from plaguing its own operation. After all, when buying in the company of a sincere and knowledgeable consultant, the purchase is far less a burden than it is an enjoyable affair.
---
Looking to purchase a classic car?
---
Buying a Classic with the Beverly Hills Car Club
Alex Manos is also in the business of buying vintage automobiles of all makes and models. Condition is of no consequence to the Beverly Hills Car Club, so dont hesitate to shop that rust bucket past the crew; theyll gladly provide an assessment and make you a fair offer. Plus, you will come away with the knowledge that your car is in excellent hands. Whether you are handing over the keys to a polished heirloom or simply clearing out space in the garage with the help of a tow truck, the Beverly Hills Car Club will treat you and your sale with the utmost respect.
For those interested in taking the consignment route, the Beverly Hills Car Club is perfectly happy to offer you this service. You will need to call for a case-specific quote, but the staff will do right by you at each phase of the consigning process.
Spread the word!
---
We Also Buy Classic Beverly Hills Car Club Services In Any Condition, Top Dollar Paid.
And We Pick Up Anywhere In The USA.
---