Selling or Buying a 1938 Bentley 4 1/4 Litre?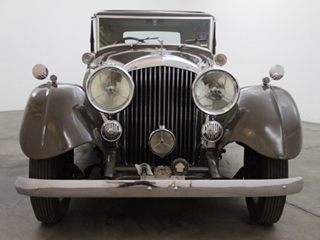 Beginning in March 1936, the Bentley 4.25 Litre succeeded to the Bentley 3.5 Litre, featuring a larger engine to compensate for the heavyweight of the body. The engine was based on the one fitted on the Rolls-Royce 20/25, improved with twin carburetors. The model came as a rolling chassis to be sent to the customer's coachbuilder of choice and fitted with a tailored body style. Most models were made as tourers and saloons, some more rare than others. The MR and MX series cars featured Marles steering and full steel body. Power was transmitted to the wheels via an overdrive gearbox for the M series, allowing for a top speed of 100 mph at 4000 rpm. The Bentley MkV came to replace the Bentley 4.5 Litre in 1939.
---
Looking to purchase a classic Bentley?

---
1938 Bentley 4 1/4 Litre Buyer's Guide
In the market for a 1938 Bentley 4 1/4 Litre? You've come to the right place. The Beverly Hills Car Club has been in the classic car industry for many years and their team of friendly professionals enjoys an excellent reputation for good deals and top customer service. Moreover, the team is known for sharing useful tips and advice to help you make a good transaction. For one, be sure to request all the paperwork available for the classic, including the certificate of authenticity, history of ownership, and history of service and maintenance. Looking at the service and maintenance documents will give you some valuable information that can prove useful in assessing the value of the classic. For example, if the 1938 Bentley 4 1/4 Litre you're looking at was in a major accident, the frame might have some irreversible damage. The Beverly Hills Car Club is always available to answer your questions and help you get the classic car of your dreams at an affordable price.
Connect with The Beverly Hills Car Club team soon to get started on your research for a 1938 Bentley 4 1/4 Litre that meets your requirements and budgets. The Beverly Hills Car Club team also has a large inventory of classic cars for sale. Come visit the dealership anytime!
Bentley 4.5 Litre Details:

Learn More About Classic Bentley Cars:

---

Sell us your car

Pick up from any USA location - Any condition - Top $$$ Paid

CONTACT US TODAY!