Buying a 1962 Amphicar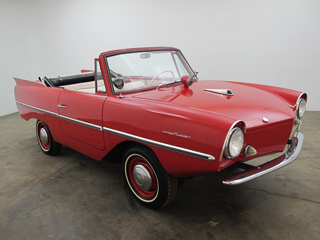 A classic that will certainly get you noticed, the 1962 Amphicar is a land and sea vehicle produced in Germany between 1961 and 1968. Stunning onlookers with its amphibious capabilities, the Amphicar is capable of 70mph on land and 7 knots on the water. It is these statistics that have given the Amphicar the Model 770 nickname. Developed by Hanns Trippel, the 1962 Amphicar would feature a four-cylinder Triumph Herald engine and a land-and-water transmission that allowed propellers and wheels to be controlled simultaneously or on their own. Complete with rubber seals and maritime-required equipment such as water navigation lights and a power bilge pump, great care was given during production to ensure the Amphicar was safe on both the street and water. When new, the Amphicar sold for between $2,800 and $3,300, which was quite expensive during the era. However, in 1968 new EPA and DOT requirements in the United States would go into effect and would prevent the Amphicar from being imported. With the U.S. market representing more than ninety percent of the companys business, it would be forced to shut down. In total, approximately 4,500 examples were manufactured with little change from 1961 to 1968. It is estimated that little more than 3,000 Amphicars were sent to the United States, of which more than 700 are still in regular use.
---
Looking to purchase an Amphicar?

---
1962 Amphicar Buyers Guide
If youre thinking about buying a 1962 Amphicar, there are several things to keep in mind while exploring examples for purchase. First, is the car complete? Are any of the parts missing or damaged? This is vitally important to those who are looking for a restoration car, as parts are either difficult to find or are very expensive. Rust in the rear fenders is pretty common and can be repaired, but extensive rust in the hood or doors can be quite a problem to tackle. Similarly, chrome trim pieces are available but are costly. Second, youll want to know whether or not the car is seaworthy and when it took its last swim. If the previous owner used the car on land and water regularly, there is probably little question as to whether or not it can float. On the other hand, if the car has not been in the water in years and the owner is unsure of its seaworthiness, youll want to insure you fully inspect the car and understand its condition prior to purchase. Lastly, youll want to learn more about the rear quarters of the car, as most Amphicars have had to have these replaced. Water gets trapped in there and the original design to keep them dry did not work. Metal repairs are the best, fiberglass repairs are o.k., and plastic repairs typically indicate someone didnt know what they were doing. You can test this area using a small magnet.
These are just a few Buyers Tips for the 1962 Amphicar. The Beverly Hills Car Club, a Los Angeles classic car dealership that specializes in European and American classic cars, welcomes you to tour their website to view the Amphicar models currently in their inventory. Should you have any questions, dont hesitate to contact them today!
Learn More About Classic Amphicars:
Spread the word!
---
We Also Buy Classic 1962 Amphicars In Any Condition, Top Dollar Paid.
And We Pick Up Anywhere In The USA.
---