Buying a 1962 Austin-Healey 3000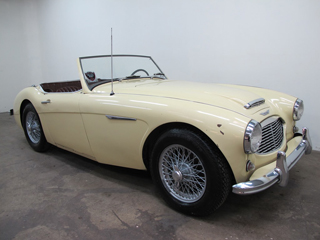 The 1962 Austin-Healey 3000 is often a source of confusion for those not familiar with the Austin-Healey brand. This model year marked the release of the first MKII 3000, which was basically the same as its 3000 predecessor except for an increase in power due to the addition of a third carburetor and the grille was changed from horizontal to vertical bars. This particular model was available in a four-seat version, called the Series BT7, or as a two-seat version, called the BN7. Interestingly, the BN7 only saw 355 built from 1962 to 1963, making it the rarest production Healey 3000 and the last of the strictly two-seater models. Also in early 1962, a Series BJ7 car was introduced, which had Austin-Healeys first roll-up windows and a curved, wrap-around windscreen. It also had the vertical bars on the grille, but reverted to two carburetors. Most importantly, this model had a permanently attached folding top that provided real weather protection a first for the brand. This 1962 Austin-Healey 3000 is often called the Mark IIa, although that is not an official name.
---
Looking to purchase an Austin-Healey?

---
1962 Austin-Healey 3000 Buyers Guide
If youre considering buying a 1962 Austin-Healey 3000, you have a choice between a 3000 Mark II roadster with three carburetors in either a two or four seat configuration, or a 3000 Mark II convertible with two carburetors and four seats. If you opt for the original MKII with three carburetors, keep in mind that these were known to be troublesome to keep tuned, and even the British Motor Corporation offered a kit to convert the triple-carburetor cars to two early in 1962 after initial problems with the original models. This is something youll want to discuss with the seller prior to purchase. Most enthusiasts will tell you to avoid the triple-carburetor cars unless youre willing to make the commitment. On the other hand, if youre looking for better weather protection and dont feel like shelling out the extra cash for a later BJ8 model, the MKIIa version may be of interest to you. These are just a few of the Buyers Tips for the 1962 3000 Healey that may be helpful to you as you start your search.
The 1962 Austin-Healey 3000 offers collectors a glimpse into one of the finest production periods in the Healey history. Whether youre looking for a restoration project, a weekend driver, or a pristine, showroom quality example connect with the California classic car dealership professionals at The Beverly Hills Car Club today. They look forward to sharing their knowledge and experience with you.
Learn More About Classic Austin-Healeys:
Spread the word!
---
We Also Buy Classic 1962 Austin-Healey 3000's In Any Condition, Top Dollar Paid.
And We Pick Up Anywhere In The USA.

---