Buying a 1965 Amphicar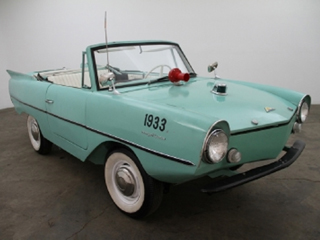 If youre looking for more information on the 1965 Amphicar, youve come to the right place! One of the most unique and head-turning classics on the market today, the 1965 Amphicar was part of the first and only mass-produced amphibious car line designed by Hanns Trippel. Designed and marketed specifically to appeal to American buyers, it is rumored that Trippel built more than a thousand prototypes before finalizing the design and mechanics of the Amphicar. Although the Amphicar offered modest performance both as a boat and car, it is still among the most successful amphibious civilian autos of all time. While the German factory was stocked with enough inventory to manufacture 20,000 per year, only 4,500 units were produced before the company folded in 1968. No 1968 model-year Amphicars were directly imported into the United States, however. This was because new U.S. EPA and DOT regulations went into effect that year, which made it impossible for the Amphicar to be sold in the United States. This would cause a major financial disaster for the company and would be instrumental in its closing. Today, classic car collectors and Amphicar enthusiasts continue to enjoy these unique classics.
---
Looking to purchase an Amphicar?

---
1965 Amphicar Buyers Guide
One of the main considerations youll need to make when buying a 1965 Amphicar is rust. The Amphicar was made of steel and is prone to rust, although modern paint and waxes can stop rust front being a problem. The rear quarters are perhaps the most prone to rust. Most Amphicar owners will tell you that eventually all Amphicars have, or will need to have, their rear lower quarters replaced. Water can become trapped in these areas and the original design to keep them dry did not work. That being said, it is important to understand the quality of such repairs. Metal repairs are always the best. Be sure to ask the seller for any documentation regarding repairs or maintenance, as this can give you a greater understanding of the Amphicars life. Similarly, it is always advisable to have any potential purchase inspected by a third-party vendor, preferably by someone who is knowledgeable in amphibious vehicles. The Beverly Hills Car Club, a leading Los Angeles classic car dealership, can connect you with professionals in this area.
For more Buyers Tips on the 1965 Amphicar or other European classics, The Beverly Hills Car Club team encourages you to contact them today. In the meantime, be sure to browse their online inventory to view the Amphicar models currently in their collection. Dont see what youre looking for? Give their team a call today to discuss your specific goals. They look forward to hearing from you and to helping you find the Amphicar you desire.
Learn More About Classic Amphicars:
Spread the word!
---
We Also Buy Classic 1965 Amphicars In Any Condition, Top Dollar Paid.
And We Pick Up Anywhere In The USA.
---