Selling or Buying a 1982 Ferrari 308 GTSi?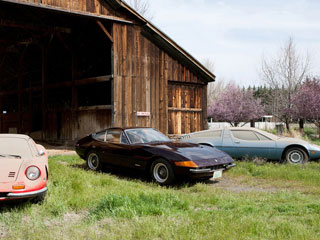 The 308 series replaced the Ferrari Dino series in 1975 and the Ferrari 308 GTSi was the first of Ferrari's mid-engine sports car models to feature the well-known fuel injection system provided by Bosch. This system replaced the Weber carburetors in order to meet the environmental regulations in place at the time. The GTB and the GTS models were launched prior to the GTSi and were slightly more powerful than the GTSi in terms of horsepower. However, the GTSi featured a smooth 5-speed transmission that made it quite pleasant to drive. The Ferrari 308 went on to become a well-appreciated sports cars thanks to its beautiful targa design, work of Pininfarina, which was reminiscent of the elegant lines of the Dino 246. The 1982 Ferrari 308 GTSi is now heralded as one of the easiest classic sports cars to own, thanks to a solid fabrication and manageable maintenance requirements.
---
---
Looking to purchase a classic Ferrari?

1982 Ferrari 308 GTSi Buyer's Guide
If you are considering purchasing a 1982 Ferrari 308 GTSi, there are a few simple tips that can be useful. As with most of the classic cars manufactured during that era, rust on the bodywork can be a real problem. Galvanization techniques were introduced in 1984, which means previous models weren't protected against rust. Check the front and rear bottom, as well as the doors, where rust damage is most likely to be seen. Hiring the help of an expert to carry out a meticulous pre-purchase inspection is wise and can save you a lot of time and money. Restoration and repairs can seriously add up to a very onerous bill, which is why it's always in your interest to acquire an example that is mechanically sound and with a rust-free body. Clutch, leaks and oil pressure are more items to put on your list when looking at a particular example, and The Beverly Hills Car Club would be happy to give you more information.
The Beverly Hills Car Club is one of the highest rated and well-known classic car dealerships. If you have any questions on a 1982 Ferrari 308 GTSi, please contact the team. In the meantime, check the online listings to see which models are available for purchase and feel free to give the team a call if you don't find what you're looking for online. They look forward to hearing from you and to helping you find the classic Ferrari you've been dreaming of. Connect today!
Learn More About Ferrari 308 GTS:
Spread the word!
---
We Also Buy Classic 1982 Ferrari 308 GTSi's In Any Condition, Top Dollar Paid.
And We Pick Up Anywhere In The USA.
---