Selling or Buying a 1983 Ferrari 308 GTB?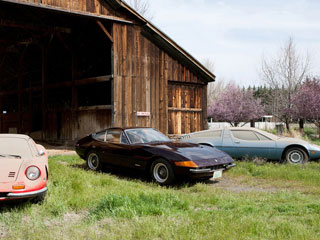 Closer to the beloved Ferrari Dino 246 than its direct successor, thanks to its beautiful Pininfarina design featuring sweeping curves and aggressive lines, the Ferrari 308 GTB is a beautiful and enjoyable classic Ferrari. In 1982, Ferrari introduced four-valves to compensate the loss in power that came with the switch from carburetors to a fuel-injection system. The engineers found a great solution to overcome emission regulations, making the 1983 Ferrari 308 GTB a healthy and powerful QV model. The driving experience is very enjoyable, the car feels light and compact and the steering softens up on winding roads, with the wheel nicely balancing in your hands. Although it isn't the fastest car of its generation, with a 0 to 60 mph acceleration in 6.7 seconds, it never feels lacking in power.
---
---
Looking to purchase a classic Ferrari?

1983 Ferrari 308 GTB Buyer's Guide
A 1983 Ferrari 308 GTB isn't only a beautiful and thrilling classic Ferrari, but also has many advantages such as the fact that it's relatively easy to maintain compared to other contemporary classics. Be sure however, to check for the following items when looking at an example of 1983 Ferrari 308 GTB: rust points are typically present on the bottom of the front wing ahead of the door; make sure service is up to date (especially for belts, water pump and tensioner); request original documented miles; ask the owner for original documents and tools. Hiring a classic Ferrari expert can be a huge help to make sure the car was meticulously maintained and cared-for, and is mechanically sound. Those are only a few of the many tips you can get from the team The Beverly Hills Car Club. The professionals are always happy to share their knowledge about any classic Ferrari.
Should you be interested in a 1983 Ferrari 308 GTB in inventory at the Los Angeles classic car dealership, please don't hesitate to make an appointment to come see the car anytime. The team can also help you find any classic Ferrari example, whether in their inventory or not. Connect with them today to get started! They look forward to hearing from you soon.
Learn More About Ferrari 308 GTB:
Spread the word!
---
We Also Buy Classic 1983 Ferrari 308 GTB's In Any Condition, Top Dollar Paid.
And We Pick Up Anywhere In The USA.
---