Selling or Buying a Bentley Corniche MK V?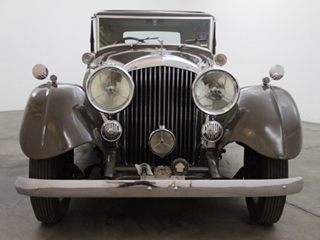 The Bentley Corniche MK V was a lightweight and more aerodynamic prototype based on the Mark V model that was developed in 1939 but the project was interrupted because of World War II. The concept actually emerged as the Bentley Continental in 1952. Weight was one of the main concerns at the time, as tire design didn't allow for enough safety on heavy vehicles at the increasingly high speeds sports cars were reaching. The prototype was a four-door sports saloon with a body designed by Georges Paulin and manufactured by coachbuilder Vanvooren in Paris. The model was involved in a rollover accident in France and suffered serious damage. According to most sources, bombing in Dieppe destroyed the car and only the chassis was recovered and returned to Derby. The Rolls-Royce Heritage Trust in Derby recreated a copy of the Bentley Corniche Mark V.
---
Looking to purchase a classic Bentley?

---
Bentley Corniche MK V Buyer's Guide
The Bentley Corniche MK V has an interesting story and The Beverly Hills Car Club team would be happy to share more information about the model. Please don't hesitate to phone the team anytime, they're available and ready to assist you. When looking to purchase a special classic, it is recommended to request the help of a classic car expert to look at the model and give you an additional estimate of the car's value. This will allow you to be 100% confident that you're knowledgeable about the model you're looking at and help you make a better transaction. The Beverly Hills Car Club team has been operating in the classic car industry for many years and the team would be happy to share their contacts for classic car experts in your region if needed.
Please feel free to reach out to The Beverly Hills Car Club team with any questions about their services or to inquire about a classic car they have in inventory. Their Los Angeles classic car dealership is the number one destination for classics, with a large collection of models of all makes and decades. Come visit if you're in the area, the team would be happy to meet you and show you the inventory.
Bentley Mark V Details:

Learn More About Classic Bentley Cars:

---

Sell us your car

Pick up from any USA location - Any condition - Top $$$ Paid

CONTACT US TODAY!