Selling or Buying a Ferrari Testarossa?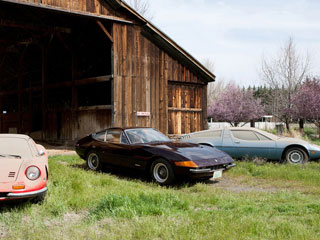 Introduced in 1984 to replace the Ferrari Berlinetta Boxer, the Ferrari Testarossa was the longest running series in the companys history. This mid-engine, rear-wheel drive sports car inherited the stunning body shell design of the Berlinetta, but with a number of changes that made it look quite different in the end. It was half a foot wider and had side strakes that stretched from the doors to the rear fenders to provide cool air to the rear-mounted side radiators. The Ferrari Testarossa was powered by a mid-mounted 4.9-L Colombo DOHC V12 engine lubricated via a dry sump that provided up to 390 hp at 6,300 rpm. Early American versions of the car had a slightly lower power rating though. The Testarossa had a top speed of 180 mph and could accelerate from 0 to 60 mph in 5.2 seconds. Over the years, the Testarossa has become a highly sought-after classic Ferrari for a number of reasons, and its easy to see why. Finding the right classic car can be tough if you have limited knowledge of the classic car market. The experts at The Beverly Hills Car Club can help you choose the car that best suits your needs, thanks to years of experience in the market.
---
Looking to purchase a classic Ferrari?

Ferrari Testarossa Buyers Guide
The Testarossa that replaced the Berlinetta Boxer in 1984 was such as successful model that Ferrari retained it throughout the 1980s and half of the 1990s. While it was not the fastest road-going car of its generation and not even faster than its predecessor, the Berlinetta Boxer, it was a sleek, elegant and robust vehicle designed for convenience and comfort. A few tips can be useful when looking to purchase such a classic. Ferrari experts with an extensive knowledge of the brand and classics will be able to carry out a quality pre-purchase inspection and give you great advice, which is always advised. A pre-purchase inspection can not only help you understand the cars authenticity and originality, it can give you great insight into how the car was treated and maintained over the years. Often, these insights can help you determine how much work will need to be done to get the car into the shape you desire.
Buying a Ferrari Testarossa is an important decision. The Beverly Hills Car Club team has an extensive knowledge of classic cars of every generation and will be able to walk you through the process of buying a classic Ferrari to make sure you dont miss any important step. Browse their online inventory of classic Ferraris for sale at the Los Angeles classic car dealership and call with questions. The team is looking forward to assisting you in your project.
Ferrari Testarossa Production Years:

Learn More About Classic Ferraris:

<a href="buy-1996-ferrari-testarossa/>1996 Ferrari Testarossa</a></li> </ul> </td> <td> <ul> <li><a data-cke-saved-href=" https:="" www.beverlyhillscarclub.com="" buy-classic-ferrari.htm"="">Classic Ferrari
Spread the word!
---
We Also Buy Classic Ferrari Testarossas In Any Condition, Top Dollar Paid.
And We Pick Up Anywhere In The USA.
---