Rent Classic Delorean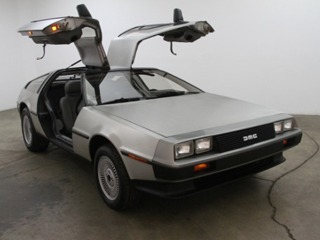 Looking a classic Delorean to rent for tv, film, or photo shoot? Please feel free to reach out to The Beverly Hills Car Club team today. The friendly staff will help you find exactly what you're looking for in your regions, at the best possible rate. Thanks to their many years of experience in the classic car industry, as well as their dedication to helping classic car enthusiasts enjoy their passion, the team is the best place to come to when looking to buy, sell or rent any classic auto. Based in Los Angeles, their showroom features vintage autos of all makes, models and conditions and the representatives have connections with owners and other classic car experts worldwide. The staff is always happy to share their contacts and expertise to help you with your search and rental.
---
Looking to purchase a classic Delorean?

---
Rent Classic Delorean Models
When looking to rent a classic car such as a Delorean, there are a few things to know. Typically, classic car rental agencies will have very strict agreements on the number of miles you can drive-if any, the insurance policy and the extra fees. The Beverly Hills Car Club team can share their experience dealing with classic car rentals to make sure you get what you need out of the hiring process. One good recommendation is to ask for an all-inclusive quote, with taxes and to make sure it is explicitly stated on the contract that the all inclusive amount is all you will have to pay if you return the car at the set time, having driven a set number of miles. Those are only a few tips and The Beverly Hills Car Club team is happy to share more anytime.
Classic Delorean Rental
Thinking about hosting a Back to the Future party? You might want to consider renting a Delorean to make the event a guaranteed success! Delorean cars are special classics that have an interesting history and a big fan base. Should you be looking into renting a classic Delorean, you've reached the right place. The Beverly Hills Car Club has many years of experience in the vintage auto industry and the team is always willing to share their expertise with clients and friends. The team would be happy to meet you if you stop by their classic car dealership. The representatives will show you around their showroom where a large collection of classics is there for viewing, including models of all makes and decades. The Beverly Hills Car Club team has contacts in the classic car industry worldwide, which makes them a great resource when looking to rent a special model.
Renting a Classic Delorean
Rent a Delorean today and have an incredible effect on your attendees should you be hosting a time machine event! Be aware that some dates fill up quickly so it might be useful to book ahead of time. If you're a fan of the Delorean car, like the members of the Delorean team, you should stop by their Los Angeles classic car dealership when you're in the area, or get in touch with the staff on the phone. The classic car experts are friendly and welcoming, always happy to help other enthusiasts rent their favorite classics at an affordable rate. The team can give you some best practice recommendations to help you look at the different contracts and find an agreement that corresponds to your needs and give you the best rate, all-inclusive.
The Beverly Hills Car Club team welcomes the opportunity to assist you with the search for a Delorean rental provider in your region. The friendly staff is dedicated to helping you make a good deal and have a great, memorable experience.
Call The Beverly Hills Car Club team today to learn more about their many services and to get additional recommendations regarding Delorean rentals. The staff is looking forward to guiding you through the process and to share some more insights.
Learn More About Deloreans:
---
We Also Buy Classic Deloreans In Any Condition, Top Dollar Paid.
And We Pick Up Anywhere In The USA.
---