Buying or Selling a Morgan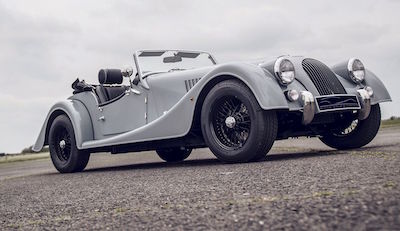 Morgan is a British automobile manufacturer which was founded in 1910. They are privately owned by the Morgan family and specialize in three and four-wheeled sports cars. Some of their most popular classic cars include the Morgan F-4, a three-wheel motor car that was in production between 1932 and 1952, and the four-wheeled Morgan 4/4, which has been in production since 1936. Because most Morgan models are incredibly light in weight, they make excellent performance cars. However, because of their compact size, most Morgan models dont make functional passenger vehicles. Morgans are also known for their special type of suspension which utilizes sliding pillar technology to reduce weight to optimize the cars ability to drive on uneven road surfaces.
Its not every day that you find an automobile by Moran Motor Company on the road, so owning one of these British sports cars is guaranteed to turn some heads. When it comes to looks, Morgan automobiles are sleek, stylish, and have a look that perfectly captures the spirit of automobiles in the early to mid-1900s.
Cars made by the Morgan Motor Company between the 1910s and 1950s are some of the most coveted cars on the market. Not only are they rare, theres also a significant historical component to these cars as well. Both the three-wheel F-Series models and four-wheel automobiles have had significant success in various racing circuits. In addition, many of the working parts of Morgan automobiles were revolutionary for the time, which made them perfect for racing.
A large number of Morgan automobiles never saw sales in the United States because of various regulations. Because of this, finding a car made by the Morgan Motor Company can be quite a challenge and will require a lot of networking and following leads. If you dont have time visiting car shows in hopes of finding a Morgan automobile, consider reaching out to the Beverly Hills Car Club for help. They are very successful at tracking down classic cars, regardless of how rare and unique they are, and will be happy to assist you with finding a three of four-wheeled Morgan that suits your needs.
The Beverly Hills Car Club team has years of experience in the industry, which has allowed them to build an extensive network across the United States who can help track down your desired Morgan. In addition, all of the Beverly Hills Car Club associates have extensive knowledge of classic British automobiles and are able to give your Morgan a thorough inspection, verifying its authenticity before selling it to you. To learn more about how you can own a classic car from Morgan Motor Company or any other vintage manufacturer, contact the Beverly Hills Car Club today.
---
Looking to purchase a classic Morgan?
---
Morgan Buyers Guide
Because Morgans are not mass-produced cars, combined with the fact that the company has faced some problems with American regulations, finding a Morgan for sale in the United States can be challenging. All of Morgan's automobiles are assembled by hand, which is the primary reason why buyers interested in a brand-new Morgan are placed on a waiting list that can take anywhere between six months and a few years. Owning a Morgan automobile means that you own a unique piece of racing and performance car history. Classic cars like the Morgan V-Twin and the Morgan F-Series, both three-wheel models, have a history of sporting excellence. If youre interested in something thats powerful and conventional, the four-wheel Morgan +4, a two-seater performance car, could be the vehicle for you.
The professionals at the Beverly Hill Car Club specialize in rare and unique classic cars, and are happy to help you find a three or four-wheeled Morgan car to add to your collection. They have years of experience working with classic car collectors, restorers, and investors, and they can reach out and help find automobile for you. Visit their website to explore their online inventory, or give them a call or email to learn more. The professionals at the Beverly Hills Car Club are happy to help you find the classic car youve always wanted!
Spread the word!
---
We Also Buy Classic Morgan In Any Condition, Top Dollar Paid.
And We Pick Up Anywhere In The USA.
---