Joe Strummer's 1963 Ford Thunderbird​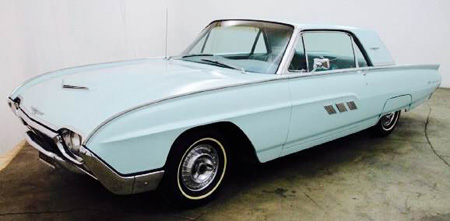 Once again, the Beverly Hills Car Club is selling a piece of rock n roll history. Joe Strummer, co-founder, lyricist, rhythm guitarist and lead vocalist of the seminal punk/rock band The Clash, passed away on 22 December 2002. And now a priceless piece of Joe's history, and that of musical culture as a whole, is up for sale: Joe Strummers 1963 blue Ford Thunderbird, an original California double black-plate Bullet body style T-bird. Originally purchased by Strummer in 1987 for $4,200, the vehicle has remained in good condition, having spent several years in a climate controlled garage.
---
The vehicle has been sold. For similar classic autos or other vintage cars, please contact us today (310) 975-0272 or email sales@beverlyhillscarclub.com
---
In 1987 and 1988 Joe Strummer was living in Los Angeles, in a beautiful wood-framed house with a swimming-pool on Ridgemount Drive off Laurel Canyon where he recorded his first solo album, Earthquake Weather, at Baby O studio on Sunset Boulevard. During this time, Joes principal mode of transport was this racy blue 1963 Ford Thunderbird. He would take his partner Gaby and their two young daughters on family outings to the desert in the T-Bird. In May 1988 he and Gaby drove the 850 miles in the Ford Thunderbird to New Mexico for the Santa Fe film festival, where Mystery Train, Jim Jarmuschs masterly independent film in which Joe starred, was being screened.
This is such a special car to me. I knew Joe Strummer as a boy growing up in London. He was one of a kind, just like this car, remarks Alex Manos, owner of the Beverly Hills Car Club. Joe had an enormous love for American cars and I feel its serendipitous that this beautiful 1963 Ford Thunderbird is coming to us for sale.
As the years pass the legend of The Clash, iconically tagged the only group that matters, and that of Joe Strummer, their incendiary vocalist, only grows; and the groups immortality takes quantum leaps. Despite the groups dissolution in 1985, The Clash were inducted into the Rock and Roll Hall of Fame in January 2003. At the Grammy Awards in February 2003, "London Calling" was performed by Elvis Costello, Bruce Springsteen, Steven Van Zandt, Dave Grohl, Pete Thomas, and Tony Kanal in tribute to Strummer.
www.beverlyhillscarclub.com
www.instragram.com/beverlyhillscarclub
For further information on the vehicle, JPGs or to schedule an interview, please contact:
Media Enquiries:
Karen Dickinson
Gorgeous Media Group
323-782-9000
info@gorgeousmediagroup.com
Sales Enquiries:
Sean Porrazzo | Jarrod Roberts
Beverly Hills Car Club
310-975-0272
sales@beverlyhillscarclub.com
Are You Looking to Buy a Classic Car? View Our Inventory
---