Testimonials: Why Choose Beverly Hills Car Club?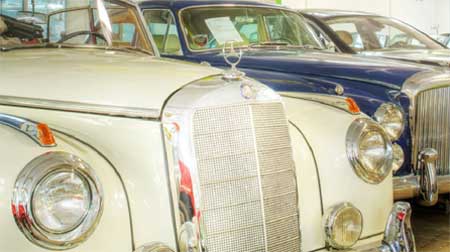 Just listen to our customers!
Below are just a few comments from our satisfied customers, clients, vendors and more. We always enjoy our work with both classic car buyers, and sellers. We pride ourselves on expert, friendly service, and we've built great relationships with classic automobile lovers like ourselves throughout the years!
At The Beverly Hills Car Club we love our cars. And we love our customers. For all your automotive wants and desires, you need to come to The Beverly Hills Car Club. We are the premiere collector/dealer in Top Dollar and Rare automobiles: New, Old, Restored, Projects, and Exotic cars.
Are You Looking to Buy a Classic Car? View Our Inventory
Looking to Sell Your Classic Car? Please Contact Us
View Recent Testimonials:
---
WES - Purvis, Mississippi
"Hi Alex, It was good doing business with you!"
WES – Purvis, Mississippi
1970 Jaguar XKE Roadster






---
Ward - Midway, Arkansas
"Alex, dealing with you, Allison, and your incredible team of transportation people (PJ and Marci) was a pleasure. Igor did a great job of loading our car with all the spare parts. I would recommend you and your company to anyone interested in selling their Classic car. Thank you to you and the people you work with."
Ward – Midway, Arkansas
1961 Triumph TR3A






---
Tom & Patti - Williamsburg, Iowa
"Alex is true to his word, fast and smooth, from the wire transfer to the transport pick up. Great pleasure to do business with you."
Tom & Patti – Williamsburg, Iowa
1957 Mercedes-Benz 220S Cabriolet






---
Steve - Bristol, Tennessee
"They made the selling of my '66 230SL as easy as it could have been. Based on pictures alone, offered an acceptable price, FedExed a cashiers check, and had the car picked up. Certainly superior to my having to display it to a series of people and take "best offer"."
Steve – Bristol, Tennessee
1965 Mercedes-Benz 230SL






---
Sheila - Napa, California
"It was a pleasure selling you our 1955 Porsche Speedster this past week. As you know this was Louis Speedster when he was 16 and he had it lovingly restored to its original state. Although it was hard to let go, Louis appreciated your professionalism, knowledge and appreciation of Porsche's. Your price was quite fair and the process went very smoothly. The people we dealt with were very professional and very nice from your office staff, Steve who looked at the car for you and the amazing fellow who transported the car. You have a fine company and I hope whoever ends up with the Speedster will enjoy is as much as we have."
Sheila – Napa, California
1955 Porsche Speedster






---
Selina - San Francisco, California
"In January I inherited a Porsche 911 in the very very early stages of restoration from my mom. I remember riding around with her in it when I was a little girl. Unfortunately this car hadn't run in over 10 years and had just been sitting in the basement. The car had been in my family for 40 years so it had some sentimental value. When my mom passed away I really didn't know what to do with this car because I didn't have the knowledge or extra cash to put in what was needed for this car. I started asking friends about it and trying to figure out how I could go about selling it to someone who knew its potential. A friend who was in a Porche club was contacted by alex inquiring about early year 911's so he called me immediately and thats was all it took. Alex was extremely easy to work with as was his sweet assistant Allison. They offered me a wonderful price I couldn't refuse. so within a matter of a week They had sent me a cashiers check and I sent of my title and they came to pick up the car the next week. The process was so easy and safe for me. I was able to deposit the cashiers check and let it clear before I sent off the title. It was all fedex'd to me with a return envelope that I only had to drop off. I am very happy that the whole ordeal was as easy as it was. The only complaint was the specific transport they sent were a little last minute and showed up late and I actually had to push the car to help these two men. This had nothing to do with Alex though he was great. I would definitely recommend!"
Selina – San Francisco, California
1967 Porche 911






---
Robert - Denver, Colorado
"Fair and the transaction was very easy. Professional and honest to deal with."
Robert – Denver, Colorado
1966 Mercedes-Benz 250SE






---
Phillip - Welch, Minnesota
"Thanks for the fast painless transaction."
Phillip – Welch, Minnesota
1958 Jaguar XK150 FHC






---
Pedro - Miami, Florida
"Thanks for yet another easy and smooth deal."
Pedro – Miami, Florida
1979 porsche 911SC






---
Name Witheld - Villa Hills, Kentucky
"You provided a very professional sale experience!"
Name Witheld – Villa Hills, Kentucky
1952 Jag XK120 Roadster






---
Name Witheld - Camden, New Jersey
"We live over-seas in the Pacific. They facilitated the entire sale with ease and integrity. Thank you!"
Name Witheld – Camden, New Jersey
1969 Jaguar XKE 2+2






---
Keith - Bowling Green, Kentucky
"They made the entire process seamless and painless. It is always a pleasure to deal with a true professional."
Keith – Bowling Green, Kentucky
1960 Porsche 356B Cabriolet






---
Karin - Fort Lauderdale, Florida
"I found Beverly Hills Car Club on the internet. Alex not only made the transaction one of the easiest I have ever made, and I am a CEO. I could not of asked for a smoother ride or a smoother business deal."
Karin – Fort Lauderdale, Florida
1970 Porsche 914/6






---
Judy - Abilene, Texas
"I can give Alex and his Beverly Hills Car Club team 5 stars! I was selling my deceased dad's pride and joy for his estate which was something I was dreading, but Alex made the transaction painless! Thanks Alex!"
Judy – Abilene, Texas
1969 Alfa Romeo Duetto






---
JOHN - Sacramento, California
"You made the transaction so easy. We agreed on a price, the easiest car transaction ever!"
JOHN – Sacramento, California
1982 Ferrari Mondial






---
GARY - Las Vegas, Nevada
"It was a pleasure working with Beverly Hills Car Club. The sale came together smoothly."
GARY – Las Vegas, Nevada
1960 Austin Healey 3000






---
Dave - Sachse, Texas
"Thanks Alex, you have a great organization. Everything went very smooth. I will be doing business with you again in the future."
Dave – Sachse, Texas
1963 Mercedes-Benz 190SL






---
CRAIG
"They were great to work with."
CRAIG
1978 ferrari 308






---
Bruce - Willington, Connecticut
"It was a pleasure dealing with Beverly Hills Car Club. You were reasonable, prompt and efficient in the business end. Allison did an excellent job on wrapping up the details. Arrangements for shipping were great. Overall great experience and I wish you the best in your pursuits!"
Bruce – Willington, Connecticut
1965 porsche 356C Cabriolet






---
BILL - Falmouth, Maine
"Alex was very professional and did everything he said he would do. Very easy transaction."
BILL – Falmouth, Maine
1997 Bentley Azure






---