1962 Mercedes Benz 190SL Buyer's Guide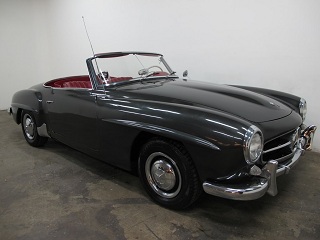 Searching for 1962 Mercedes Benz 190SL Buyer's Tips? Look no further than the experts at The Beverly Hills Car Club – the renowned California classic car dealership specializing in European and American classic autos. Back in 1953, Maximilian Edwin Hoffman, an American entrepreneur of Austrian origin who was the major importer of Mercedes Benz to the United States in the 1950's, recognized the racing successes of the Mercedes SL and insisted that those successes be put to use as an entry ticket into the American market. He left no stone unturned to persuade the board members in Stuttgart to bring the Mercedes 190SL into production. Hoffman had built a reputation for European cars in America, and did so by introducing buyers to brands such as Alfa Romeo, Austin-Healey, Jaguar, Porsche, and Volkswagen. His instincts would prove to be accurate; the Mercedes 190SL would outsell the widely popular 300SL Gullwing nearly eight to one.
---
Looking to purchase a Classic Mercedes?

---
Buying a 1962 Mercedes Benz 190SL
The 1962 Mercedes Benz 190SL was the perfect sport touring car for those buyers who could not afford the prestige and luxury of the 300SL, but that could not resist the clean, classic styling and exceptional craftsmanship of the Mercedes Benz brand. Much of this remains true to this day, as the 1962 Mercedes SL and its sister models from 1955 to 1963 continue to be some of the most desired collectors cars among the brand, next to the 300SL Gullwing, of course. Los Angeles classic car dealership The Beverly Hills Car Club recommends a thorough inspection of any 1962 Mercedes roadster you're interested in. Buyers should pay particular attention to rust prone areas, the originality of body and chrome work, and the overall mechanics of the 190SL if considering a restoration project, as the cost of restoration in these areas can be high. Their team can also assist potential buyers in finding fully-restored 1962 Mercedes Benz 190SL models if having a pristine, restored example is your desire.
Only 2,246 1962 Mercedes 190SL models were produced with approximately 772 coming to the United States and 1,468 being non-U.S. models. Rarity plays a role in finding a 190SL, as it is estimated that only 50% of the 190SL's made throughout nearly a decade of production are believed to exist today. Buyers can count on The Beverly Hills Car Club to have the classic car connections needed to assist them in finding the car that not only meets their needs, but that also exceeds their expectations. Connect today to get started! They look forward to hearing from you soon.
Learn More About Classic Mercedes:
Spread the word!
---
We Also Buy Classic 1962 Mercedes Benz 190SL's In Any Condition, Top Dollar Paid.
And We Pick Up Anywhere In The USA.
---