Buying a 1951 Alfa Romeo 1900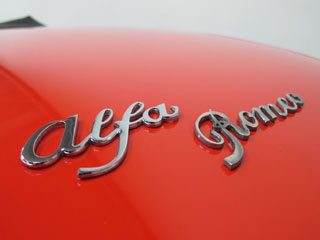 Not only Alfa Romeos first new post-war design, the Alfa Romeo 1900 was the first Alfa Romeo to offer unit construction, the first to be built entirely on a production line, and the first to be offered with left-hand drive. The Alfa Romeo 1900 still kept Alfa Romeo traditional engineering alive, however, with its twin-cam four-cylinder engine and four-speed transmission used in the previous 6C 2500. First debuted in 1950, the 1951 Alfa Romeo 1900 was available as a Berlina Sedan, Sprint Coupe and Spider Convertible. During 1951, a short wheelbase 1900C version was also introduced, which had a wheelbase of 98.4 inches. At the same time, the 1900TI became available with a more powerful engine, double carburetors and higher compression. The Alfa Romeo 1900TI would do exceptionally well in competition, including a 1-2-3-4-5 class win in the 1954 Mexican road race known as the Carrera Panamericana. It should also be mentioned that while Berlina Sedan bodies were manufactured at the Alfa Romeo factory, various Sprint Coupe and Spider Convertible models were offered by names such as Bertone, Farina, Vignale and, most notably, Carrozzeria Touring.
---
Looking to purchase a classic Alfa Romeo?

---
1951 Alfa Romeo 1900 Buyers Guide
It is estimated that a total of 21,304 Alfa Romeo 1900 models were manufactured through 1959, including approximately 17,390 Sedans. If youre thinking about buying a 1951 Alfa Romeo 1900, The Beverly Hills Car Club would be delighted to assist you in find the classic Alfa Romeo you desire. One of the first Buyers Tips that their team suggests is to consider the overall condition youre willing to accept for a 1900, the level of restoration youre willing to take on, if any, and your projected budget. These items will greatly affect your search. If you have particular color, body type or equipment requirements, youll also want to factor this into your budget, as certain combinations are more sought-after than others. For example, models like the Alfa Romeo 1900 Super Sprint Zagato or Pininfarina Cabriolet often command higher values in the classic car market. Once youve narrowed down your search, youll want to employ a third-party inspection services to evaluate the overall condition of your potential purchase, as well as its originality. To confirm these findings, you should also compare engine and chassis numbers with Alfa Romeo records. Similarly, always ask sellers to provide any documentation regarding ownership history, maintenance and service, and restoration. These documents can greatly assist in understanding the cars history.
For more Buyers Tips like these for the 1951 Alfa Romeo 1900, be sure to connect with The Beverly Hills Car Club today. With years of experience in the classic car market, their Los Angeles classic car dealership has earned a reputation for fair and honest car deals and looks forward to helping you find the classic Alfa Romeo youve always dreamed of.
Learn More About Classic Alfa Romeos:
Spread the word!
---
We Also Buy Classic 1951 Alfa Romeo 1900 Autos In Any Condition, Top Dollar Paid.
And We Pick Up Anywhere In The USA.
---