Buying an Alfa Romeo 1900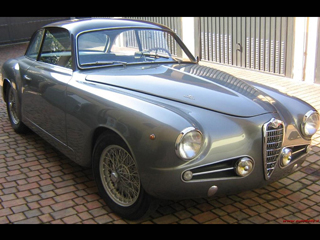 Designed by Orazio Satta in 1950 for the Alfa Romeo Company, the Alfa Romeo 1900 was the companys first new postwar design and was debuted at the Paris Motor Show of the same year. It was also the companys first car built entirely on a production line. Featuring unit-body construction, the Alfa Romeo 1900 boasted a new look for the company, yet retained some of Alfas traditional engineering ideas. This was particularly apparent in its twin-cam four-cylinder engine and the four-speed all synchromesh transmission that had been used on the last 6C 2500 models. The Alfa Romeo 1900 was offered in two-door or four-door models and was renowned for being quick and sporty, yet quite simple and spacious. The family car that wins races became Alfas slogan for the new car and alluded to the success the 1900 had seen in the Targa Florio, Stella Alpina and other races. In 1951 a short wheelbase 1900C would be released, as well as the 1900TI, which offered more horsepower and double carburetors. Approximately two years later the 1900 Super and 1900TI Super would be released. The Supers would introduce larger engine capacities and increased horsepower among other changes.
---
Looking to purchase a classic Alfa Romeo?

---
Alfa Romeo 1900 Buyers Guide
Production of the Alfa Romeo 1900 would continue at the companys Milan plant until 1959. During this time, it is estimated that approximately 21,304 1900s were built, including 17,390 of the Saloon models. It is important to note that Iginio Alessio, then general manager of Alfa, was concerned about the livelihood of the independent Italian coach-building industry, as the birth of the unibody chassis design was threatening to put these companies out of business. Thus, from 1951 to 1958, Alfa Romeo built five different variations of the 1900 unibody chassis specifically for independent coach-builders. Carrozzeria Touring, for example, had an official contract to build the sporty 1900 Sprint Coupe, while Pinin Farina was licensed to build an elegant four-seat Cabriolet and Coupe. Because of the many different Alfa Romeo 1900 variations, it is always recommended to have any potential purchase inspected for authenticity by a knowledgeable Alfa Romeo specialist.
Based in Los Angeles, The Beverly Hills Car Club is renowned for their knowledge of European and American classic cars like the Alfa Romeo 1900 and for having one of the finest selections of classics in the market. Whether youre just beginning your search for a classic Alfa or have your eye on a particular example and would like help authenticating it, be sure to connect with their team today. They look forward to hearing from you and to providing the Buyers Tips you need to be successful. Connect today to get started!
Alfa Romeo 1900 Production Years:
Spread the word!
---
We Also Buy Classic Alfa Romeo 1900 autos In Any Condition, Top Dollar Paid.
And We Pick Up Anywhere In The USA.
---