Buying A 1954 Mercedes Benz 300SL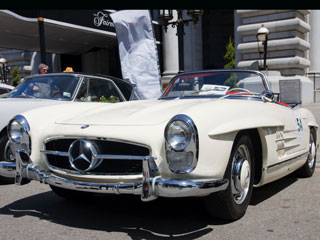 The 1954 Mercedes Benz 300SL was conceived initially as a purpose-built racing sports car. In 1952, the coupe notched an impressive record of success in the years major races. In fact, at the Grand Prix in Bern the 300SL sealed a clean sweep of the podium, an awesome performance backed by a one-two finish in the 24 Hours of Le Mans. Although there were initially no plans to send the Mercedes 300 SL into production, the official importer of the Mercedes-Benz cars into America campaigned tirelessly for a sports car to offer his well-heeled clientele, and the 300SL fit the bill perfectly. Introduced at the February 1954 International Motor Sports Show in New York, its flat, graceful body quickly became an icon of the automotive world. Named Sports Car of the Century in 1999, the Mercedes 300SL Gullwing would see 146 units produced in 1954 and 1,400 produced between its 1954 to 1957 production run.
---
Looking to purchase a Classic Mercedes?

---
1954 Mercedes Benz 300SL Buyer's Tips
The 1954 Mercedes Benz 300SL is a very low production automobile and rarity is one of the key elements that makes this car collectible. If you're looking to buy Mercedes 300SL models of any year, it is important to have the car checked out by a third party to ensure its validity. There are some Gullwing autos that were haphazardly refurbished in the late 1980's to cash in on high market demand. In addition, these cars were driven hard while they were young and it is imperative to check for signs that repairs were made. Rust is another important factor with the Mercedes 300SL Roadster and Gullwing models. Be sure to inspect areas such as the rear roof pillars, lower valance, trunk floor extensions, areas behind front and rear wheels, inner wheel housing, inner fender apron, eyebrow area and headlight buckets.
To learn more about the 1954 Mercedes Benz 300SL Gullwing or to inquire about any of the autos you see within this website, the team at The Beverly Hills Car Club is just a phone call away. When you're ready to buy classic Mercedes or to buy Mercedes 300SL models, make the right choice by teaming up with the experts at The Beverly Hills Car Club. They look forward to hearing from you soon! Connect today!
Learn More About Classic Mercedes 300SL:
---
We Buy Classic 1954 Mercedes Benz 300SL, Any Condition, Top Dollar Paid.
Pick-Up Anywhere In The USA.
---