Buying A Vintage Mercedes Gullwing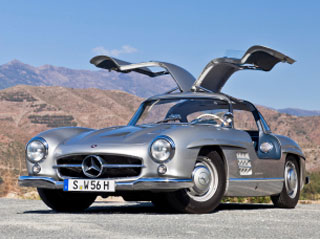 The Mercedes-Benz 300SL, lovingly known as the Mercedes Gullwing due to its unique door design, was a revolution for the road and can only today be described as a true instant classic. Introduced at the 1954 New York Auto Show and produced for only four years, the incredible Gullwing is as shocking a sight to behold today as it was some six decades ago. With little more than 1,400 automobiles produced, seeing this icon on the street was rare during its period and even rarer today. With high dollar values for a Mercedes Gullwing in good condition, these beautiful and unique autos are more often than not sought-after and desired for years before ownership can become a reality. Whether you are looking to buy vintage Mercedes Gullwing cars or simply want to learn more about the 300 SL, youve come to the right place.
---
Looking to purchase an Mercedes Benz?

---
Gullwing Motor Cars Buyers Tips
As would be expected, the Gullwing was an expensive car in its day, starting at $6,820 in 1954 and reaching more than $8,900 in 1957, its last year of production. In addition to being the iconic image of the Mercedes-Benz SL family, the 300SL Gullwing has remained a highly prized and valuable car in the 50-plus years since it was produced. There are a number of items that must be taken into consideration when looking to buy classic Mercedes Gullwing autos. Among these items are the condition including the body/frame, engine, interior and originality. For example, when inspecting the body buyers will want to pay special attention to the door, hood and deck lid fit. Because the doors literally curve in every direction, it is very hard to maintain a consistent gap. Gaps of different sizes would indicate the car has had bodywork. At the Beverly Hills Car Club, their team of experts can assist you in not only finding the ideal car, but can help in ensuring you know exactly what you are purchasing.
To learn more about the Mercedes Gullwing or to inquire about the vehicles Beverly Hills Car Club currently has available for sale, please do not hesitate to contact the team today. Whether you are considering a 300 SL, a vintage Porsche or anything in between, they stand ready to assist you. Contact them at 310-975-0272 at your convenience!
Mercedes 300SL Gullwing Production Years:
Spread the word!
---
We Also Buy Mercedes 300SL's In Any Condition, Top Dollar Paid.
And We Pick Up Anywhere In The USA.
---