Buying a 1955 Alfa Romeo 1900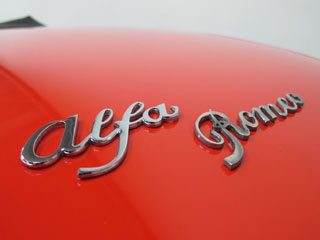 The companys first all-new post-war offering, the Alfa Romeo 1900 was the latest in a great line of sporting tradition that had given the automotive world exceptional sports models such as the 6C 1750, the 8C 2300 and others. Marketed towards the sporting gentleman driver, the classic Alfa Romeo 1900 was available in a number of states of tune and various bodies, including a Berlina Sedan, Sprint Coupe and Spider Convertible. Various coachbuilders would present a number of exceptional Alfa Romeo 1900 models, such as the 2+2 Sprint Coupe by Touring, the Sprint Coupe and Spider Cabriolet by Pininfarina and others. If youre considering a 1955 Alfa Romeo 1900 for your collection, take special note of the 1900 Super Sprint, the 1900 SS Zagato, the 1900C Berlinetta Touring Superleggera and the Ghia Speciale 1900 CSS. These are just a few of the most popular Alfa Romeo 1900 classics. While each of these were based on the Alfa Romeo 1900 chassis, bodywork varied widely depending on the coachbuilder. Your personal tastes and preferences will help you determine the 1900 classic that best meets your desires. In total, it is estimated that the Alfa Romeo Company produced more than 21,300 models through 1959 when production stopped.
---
Looking to purchase a classic Alfa Romeo?

---
1955 Alfa Romeo 1900 Buyers Guide
Buying a 1955 Alfa Romeo 1900 is often the culmination of years of dreaming and searching for the right model to complete your collection. Whether youve always wanted to restore an Alfa Romeo 1900 or prefer to purchase a fully restored or mint original, The Beverly Hills Car Club can assist you in finding, inspecting, negotiating, purchasing and transporting classics of all makes, models and conditions. Based in Los Angeles, their team of industry professionals has the knowledge and experience you need to be successful in todays classic car market. When it comes to 1955 Alfa Romeo 1900 Buyers Tips, the most important step to take prior to beginning your search is to establish a budget and the type of classic Alfa Romeo youre looking for whether it be a car for restoration, a daily driver or showpiece. Once youve found a model youre interested in, always do your research. The Beverly Hills Car Club recommends having a third-party inspection to fully understand the overall body condition, mechanical state and authenticity of the classic. They also recommend obtaining all available documents from the seller, including those on ownership history, maintenance and service, and restoration. Similarly, youll want to compare engine and chassis numbers against historical records to ensure that the 1955 Alfa Romeo 1900 youre considering buying is indeed authentic.
For more Buyers Tips for the 1955 Alfa Romeo 1900 classic or to learn more about the models currently available within their inventory, please do not hesitate to contact their team directly. In the meantime, be sure to browse this website for more Buyers Tips and information on the classic Alfa Romeo brands.
Learn More About Classic Alfa Romeos:
Spread the word!
---
We Also Buy Classic 1955 Alfa Romeo 1900 Autos In Any Condition, Top Dollar Paid.
And We Pick Up Anywhere In The USA.
---