Buying a 1956 Alfa Romeo 1900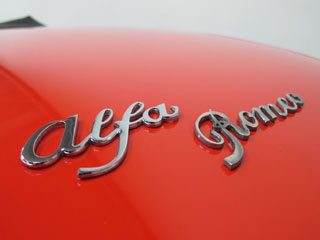 First launched in 1950 at the Paris Motor Show, the Alfa Romeo 1900 was designed by Orazio Satta and was offered in two-door and four-door models including a Berlina Sedan, Sprint Coupe and Spider Convertible. The classic Alfa Romeo 1900 holds a special place in the history of the Alfa Romeo brand as the company's first car built exclusively on a production line. Similarly, it was the company's first car without a separate chassis and body, and the first to be offered in left-hand drive. Production would last from 1950 to 1959, during which time approximately 21,304 examples were manufactured. The 1956 Alfa Romeo 1900 is an excellent example of the company's unique styling, exceptional performance and quality construction. A main player in the coachbuilding industry at the time, Alfa Romeo would recruit Touring to build the 1900 Sprint Coupe and Pininfarina to build a four-seat Cabriolet and Coupe, as the chassis was specifically designed to allow coachbuilders to re-body the 1900. For this reason, today's classic car collectors and Alfa Romeo enthusiasts will find a wealth of examples to choose from including many with varying bodywork.
---
Looking to purchase a classic Alfa Romeo?

---
1956 Alfa Romeo 1900 Buyer's Guide
Like many classic cars of this era, when buying a 1956 Alfa Romeo 1900, it is always imperative to fully inspect the car for rust damage and repair. Depending on the model you choose, body panels can be hard to find and quite expensive. It is always in your best interest to purchase the best condition classic Alfa you can find within your budget, as you do not want restoration costs to exceed the market value of the classic. To ensure you are fully aware of the overall condition of the car both visually and mechanically it is always in your best interest to hire a third-party inspector to give their opinion. Furthermore, you can gather a great deal of information and insight on the example's life by asking the seller for any documentation they may have on the car. This includes history of ownership, maintenance and service records, and any information on restoration. While these documents are not always available, they certainly can help you get a better understanding of the car. In some cases, these documents can significantly increase the value of the classic. These are just a few of the many Buyer's Tips that The Beverly Hills Car Club recommends for those interested in the 1956 Alfa Romeo 1900 or similar classic Alfa Romeo models.
To learn more about the Alfa Romeo 1900 or to discuss any of the models you see available in their online inventory, do not hesitate to contact The Beverly Hills Car Club today. They are always just a phone call or website inquiry away and look forward to helping you find the classic you've been dreaming of. Connect today to get started!
Learn More About Classic Alfa Romeos:
Spread the word!
---
We Also Buy Classic 1956 Alfa Romeo 1900 Autos In Any Condition, Top Dollar Paid.
And We Pick Up Anywhere In The USA.
---