Buying a 1961 Porsche 356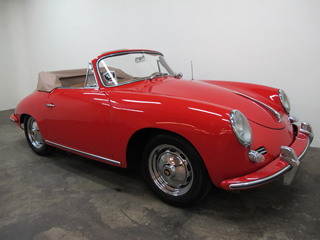 The Porsche 356B, or T5 as the body type is know, can be identified by the inclusion of quarter lights in the doors and a significant change in body shape. With the release of the Type-B 356 models, the front end now made a smooth curve from side to side instead of the more "wavy" curves enthusiasts praised in the Pre-A and A models. Headlights were also raised, bumpers were enlarged, and under the bumper a new large opening was added with grilles or optional fog lights. The 1961 Porsche 356 is an important year of note in the 356B, however, as the T6 body type was released for model year 1962. It featured a squared off, wider bonnet, two cooling intake grills on the engine lid, and a larger rear window. Also of note is the 1961 Porsche 356B rare coupe called the Karmann Hardtop or Notchback. It was essentially a cabriolet body with a fixed hardtop welded in place. While it looked like a cabriolet with a hardtop, it was in fact a coupe since the top could not be removed. Less than 2,300 models were released in 1961 and 1962.
---
Looking to purchase a Classic Porsche?

---
1961 Porsche 356 Buyer's Guide
Many Buyer's Guides for the 1961 Porsche 356 will tell you that purchasing a car for its body is far more productive than purchasing for its mechanics. First of all, the mechanics of the 356 models in general are long lived. Secondly, if they are not in good condition it is far easier and less expensive to repair the mechanics than to restore a body that is full of rust, for example. As with any classic, if the mechanics are working, it is important to check the following items. First, always check for good oil pressure, oil leaks and excessive smoke. The Porsche 356 engine can be prone to leaks in the oil cooler and rocker areas, although neither of those would be considered a serious problem. When you start the car, be sure to start it from cold and check that the generator and oil pressure lights go out immediately. Listen for the sound of a well-oiled sewing machine. Curious for more Buyer's Tips? Connect with the California classic car dealership experts at The Beverly Hills Car Club to learn more. In the meantime, they encourage you to tour their online inventory via this website.
Purchasing a 1961 Porsche 356 is an exciting time – whether this is your first or one of many. Connect with The Beverly Hills Car Club today to learn more about the many ways they can help you find, negotiate and purchase the Porsche 356 of your dreams. Connect today!
Learn More About Classic Porsches:
Spread the word!
---
We Also Buy Classic 1961 Porsche 356's In Any Condition, Top Dollar Paid.
And We Pick Up Anywhere In The USA.

---