Buying a 1965 Porsche 911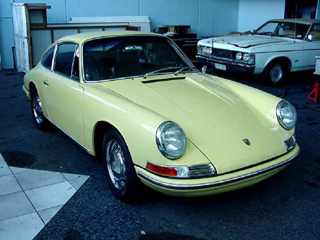 If you're looking to learn more about the 1965 Porsche 911, you've come to the right place! The legendary Porsche 911 has the distinction of being one the longest production run sports car of all time. Tracing its roots back to sketches drawn by Ferdinand Porsche in 1959, the classic developed as a much more powerful, larger and comfortable replacement to the widely popular Porsche 356, which had a 15-year production run. Debuting at the 1963 Frankfurt Motor Show, the car was originally designated a Porsche 901. Approximately 82 cars were built as 901s. Auto company Peugeot protested, citing exclusive rights to cars named with three numbers and a zero in the middle. Porsche changed the name to 911, although the cars' part numbers carried a prefix of 901 for many years internally. Production began in September of 1964, with the first 911s reaching the United States in February 1965.
---
Looking to purchase a Classic Porsche?

---
1965 Porsche 911 Buyer's Guide
The earliest models of the Porsche 911 offered a 128hp, flat-six engine that was air-cooled and rear-mounted. The car also offered four seats, although the rear seats were very small. For this reason, the 1965 Porsche 911 and other early models are often considered a 2+2 rather than a four-seater. Ferdinand "Butzi" Porsche, son of Ferdinand "Ferry" Porsche, who was also the founder of the 356, largely influenced the styling. The Porsche 356 came to the end of its production life in 1965, but there was still a market for a four-cylinder car, especially in the United States. For this reason, a Porsche 912 was also introduced in 1965. It was a busy year for Porsche. To learn more about the 1965 Porsche or to explore Buyer's Tips for this and other models, the California classic car dealership professionals at the Beverly Hills Car Club encourage you to browse their website at your leisure. Having assisted countless clients find and purchase the 911 Porsche's of their dreams, it would be their pleasure to share their knowledge, experience and industry connections with you.
Please feel free to browse their online inventory to view 1965 Porsche 911 models currently available. Don't see what you're looking for? Call their professionals today to discuss your specific needs and to get started in your search. They look forward to hearing from you soon and to helping you achieve all your classic car goals. Connect today!
Learn More About Classic Porsches:
Spread the word!
---
We Also Buy Classic 1965 Porsche 911's In Any Condition, Top Dollar Paid.
And We Pick Up Anywhere In The USA.

---