Selling or Buying a 1969 Lamborghini Islero?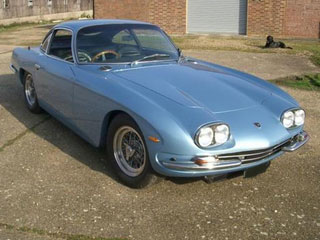 The Lamborghini Islero was launched in 1968 and produced only until 1969. Succeeding to the Lamborghini 400 GT, the Islero was designed by newly funded Carrozzeria Marazzi as Touring just went bankrupt. Based on its predecessor, the Lamborghini Islero was more spacious, better soundproofed and fitted with wider wheels. The 4-liter V12 engine was upgraded in 1969 and tuned up to produce an output of 350 hp. Dubbed the Islero S, the new variant could reach a top speed of 161 mph and achieve 0 to 60 mph in 6.2 seconds. Design-wise, the car boasted enlarged hood scoop to supply air inside the cabin and round side-marker lights instead of the teardrops fitted on the first generation. The rear suspension was revised and larger brake discs were also fitted. Inside, the dashboard was revised and the 1969 Lamborghini Islero featured tinted windows.
---
Looking to purchase a classic Lamborghini?

---
1969 Lamborghini Islero Buyer's Guide
Looking for a 1969 Lamborghini Islero? The Beverly Hills Car Club's inventory includes a long list of classics of all makes and models. Call the team today to find out about the current 1969 Lamborghini Isleros and if your perfect model isn't available, the experts will help you find it thanks to their many contacts worldwide. The team also regularly shares tips and advice on the best practice for buying a classic Lamborghini. With years of experience in the industry, buying and selling classics of all makes and models, the friendly staff has an extensive knowledge of the market. If you're wondering what model you can get within your budget, taking into consideration the costly maintenance of an Italian classic, the team is there to help. One tip when defining what car fits your needs is to always aim for the model in the best condition within your budget.
Call The Beverly Hills Car Club team today to speak with the enthusiast Lamborghini experts. The friendly staff is always looking forward to sharing experiences about classics with other enthusiasts. In the meantime, browse the online inventory to view the current inventory list!
Learn More About Lamborghini Islero:
Spread the word!
---
We Also Buy Classic 1969 Lamborghini Isleros In Any Condition, Top Dollar Paid.
And We Pick Up Anywhere In The USA.

---