About Barker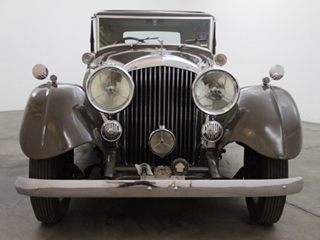 Founded in 1710 in London, Barker was known for making luxurious carriages at first, and car bodies in the 20th century. A lot of Barker's work was done for Bentley and Rolls Royce rolling chassis, up until the company started to provide their own bodywork in 1946. In the 1920s and 1930s, Barker fell behind its competitors because the coachbuilder didn't move towards lighter alloy frames and therefore limited the performance of the model. Long-time rival Hooper & Co. took the firm over in 1938 and Daimler acquired both in 1940 to become part of the BSA group. If you'd like to hear more about the story of Barker coachbuilders and designs, The Beverly Hills Car Club would be more than happy to answer your questions and have a talk about classic cars, so don't hesitate to reach out to the team!
---
Looking to purchase a classic Bentley?

---
Barker Classic Bentley Coachbuild Buyer's Guide
In the early Rolls-Royce years, Barker was the recommended coachbuilder, where the customers would send the rolling chassis to be fitted with a body and interior. One of the early Rolls-Royce designs with a Barker body was the Silver Ghost, which is now one of the most valuable classic cars on the market. Barker also made bodywork for chassis from Daimler, Napier, Duesenberg and Mercedes-Benz. Should you be looking into purchasing a classic car with a Barker body, The Beverly Hills Car Club is a great place to start. Based in Los Angeles, the team has a large and growing inventory of models for sale, including Barker designs in all conditions. Check their online inventory to get an idea of their current availabilities. The team is also constantly adding new models to the collection and the staff is in contact with classic car sellers worldwide so don't wait and call them today to get started on your research.
The Beverly Hills Car Club is a number one destination for all classic car needs. The friendly staff enjoys an excellent reputation for top customer service and great deals. Come visit the dealership anytime and meet the team, they'll show you the collection and help you get started on your project.
Classic Bentley Coachbuilder Details:

Learn More About Classic Bentley Cars:

---

Sell us your car

Pick up from any USA location - Any condition - Top $$$ Paid

CONTACT US TODAY!