Classic Bentley Coachbuilders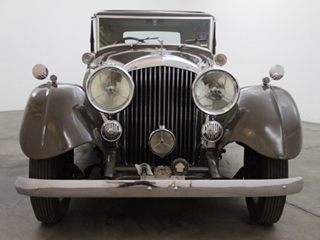 Classic Bentleys were based on a rolling chassis for many years, and sent on the client's request to a coachbuilder of choice. Numerous independent coachbuilders worked on Bentley models to create some very special models along with more standard versions. Bentleys were known to be highly luxurious and customizable. In the early days, Bentley developed a special relationship with coachbuilders H.J. Mulliner & Co. and Park Ward, who created standard and more unique designs for many models. Eventually, Bentley bought the two coachbuilders and brought them in house to build the bodies and interiors. Many other coachbuilders from all over Europe were used and as such, Bentley cars are very unique.
---
Looking to purchase a classic Bentley?

---
Who are Classic Bentley Coachbuilders?
If you're wondering who are the coachbuilders who worked on the different models of classic Bentleys or are getting a little confused with all the models, The Beverly Hills Car Club team would love to help. The team has been a major player in the classic car industry, buying and selling models of all makes and decades. Be assured that if you have any questions about the classic Bentley coachbuilders, the team will answer you swiftly. Whether you're looking for a standard Park Ward or H.J. Mulliner, or a very rare French or Italian coachbuilder version of a classic Bentley, The Beverly Hills Car Club team would be happy to help. Here are a few names that were famous for their classic Bentleys design: James Young, Hooper and Co., Pourtout, Figoni & Falaschi, Franay, Freestone and Webb. The Beverly Hills Car Club team would be more than happy to share their knowledge on any classic Bentley coachbuilder so don't hesitate to phone the team with your questions.
If you're looking for a particular model of classic Bentley for sale, with the body style of a particular coachbuilder, The Beverly Hills Car Club team is a great resource. The team has a large inventory of classics for sale and is also in contact with buyers and sellers worldwide. Connect today to get started.
Classic Bentley Coachbuilders:

Learn More About Classic Bentley Cars:

---

Sell us your car

Pick up from any USA location - Any condition - Top $$$ Paid

CONTACT US TODAY!