About Facel-Metallon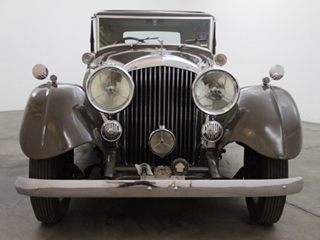 Facel was founded in 1939, just after the start of the war. The new company was a subsidiary of Bronzavia, which operated in military aeronautics. Jean Daninos, technical director of Bronzavia left for the U.S. in 1941 to help the war with the ally, within the General Aircraft Equipment that used the patents of the French company. When he came back in 1945, he took the direction of Facel and merged it with Metallon. Facel-Metallon became specialized in coach building, working with companies such as Simca, Ford SAF, Panhard and Delahaye. In 1952, Jean Daninos partnered with Chrysler to get a V8 engine for a luxurious coupe 2+2 prototype. In 1953, Facel-Metallon was divided in two entities and the prototype was made by Facel and named the Vega, symbol of power and prestige.
---
Looking to purchase a classic Bentley?

---
Facel-Metallon Classic Bentley Coachbuild Buyer's Guide
Facel-Metallon is known for making the bodies for 13 Bentley Cresta with Pininfarina, leading to the Continental. In 1951, Jean Daninos built a unique coupe Bentley Cresta II with 2 to 3 seats for his personal use but also to know the know-how of Facel-Metallon. This model influenced the design of the Facel Vega FVS coupe. Should you be interested in learning more about Facel-Metallon's history, The Beverly Hills Car Club team is at your disposal to answer any questions you may have! The team is known for being helpful to customers and friends by sharing some tips and recommendations for all classic car needs. Moreover, their Los Angeles classic car dealership is the number one destination if you're looking to purchase a classic car. The showroom features a large array of models in all condition and the team has contacts with classic car sellers all throughout the country.
Connect with The Beverly Hills Car Club team today to find out about their current offers and hear more about their many services. The team welcomes you in a friendly environment and the staff is dedicated to helping you find exactly what you're looking for, within your budget.
Classic Bentley Coachbuilder Details:

Learn More About Classic Bentley Cars:

---

Sell us your car

Pick up from any USA location - Any condition - Top $$$ Paid

CONTACT US TODAY!