About Figoni & Falaschi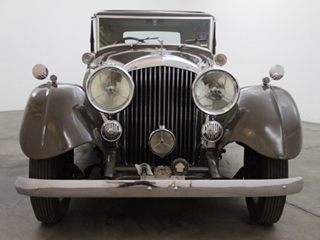 Figoni & Falaschi was a French coachbuilder company ran by Giuseppe Figoni who was responsible for designs and Ovidio Falaschi who took care of the business. Figoni moved from Italy to France when he was young and started as an apprentice at a carriage builder until he left for World War I. Upon his return, he started developing a reputation as the owner of a coachbuilder firm and started building bodies for Delahaye, Bugatti, Renault, Delage, Panhard and Alfa Romeo, with the trademark Figoni. Nowadays, Figoni & Falaschi designs command a very high value and are voted best in show at many concours. The Beverly Hills Car Club has a large inventory of classic cars for sale, including rare models such as Figoni & Falaschi designs. Don't hesitate to reach out to the team to inquire about their current availabilities.
---
Looking to purchase a classic Bentley?

---
Figoni & Falaschi Classic Bentley Coachbuild Buyer's Guide
According to many, Figoni & Falaschi is responsible for some of the most elegant and refined bodies made between 1930 and 1950. Figoni & Falaschi designs have an excellent reputation for being both attractive and functional. Figoni & Falaschi was also famous for its many successes in racing. Some of the more famous racing models include the Alfa Romeo 8C 2300 Le Mans type that won three years in a row from 1932, or the Delahaye Type 138 18CV Speciale, which set a record at Montlhery for the 48 hour endurance race. The advances in aircraft design and aerodynamics heavily influenced Giuseppe Figoni, resulting in the distinctive teardrop style. Before each auto show or concours d'elegance, Figoni & Falaschi would coordinate with couturiers in Paris to match the color and style of the cars with models wearing ensembles and fashion accessories.
Should you be interested in learning more about Figoni & Falaschi designs or if you'd like to inquire about one of the models for sale at The Beverly Hills Car Club, please feel free to reach out to the team whenever is convenient. The staff is always happy to speak with other classic car enthusiast and happy to help whenever possible.
Classic Bentley Coachbuilder Details:

Learn More About Classic Bentley Cars:

---

Sell us your car

Pick up from any USA location - Any condition - Top $$$ Paid

CONTACT US TODAY!