About Franay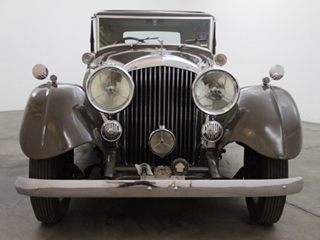 Based in Levallois-Perret near Paris, Franay was a famous French coachbuilder founded in 1903 by Jean-Baptiste Franay and later overtaken by his son Marius. Franay's designs were featured on prestigious chassis such as the Delahaye Type 135, and also numerous Bentley, Delage, Hispano-Suiza and Rolls-Royce models. Franay became a specialist for coupes and chauffeured, high-end vehicles in the 1930s, always fitting prestigious chassis. After World War II, Franay collaborated with Bentley and Rolls Royce and its car body production stopped in late 1955. If you'd like to hear more about the history of Franay, The Beverly Hills Car Club team is available and ready to assist you. Give them a call anytime!
---
Looking to purchase a classic Bentley?

---
Franay Classic Bentley Coachbuild Buyer's Guide
Amongst Franay's most successful designs were the Talbot-Lago Grand Sport and President Rene Coty's ceremonial cara 1955 Citron Traction Avant. The latter featured a three-box modern body using the windscreen and bumpers from a Ford Comete, the wheel trims from a Ford Vendome, the taillights from a Chevrolet and the rear window from a Buick. Thanks to their many years of experience in the classic car industry, The Beverly Hills Car Club team has gained an unmatched expertise of all classic cars, their history, and the various coachbuilders hired to body the models. Should you be interested in learning more about a particular car or coachbuilder, please don't hesitate to reach out to the team and ask to speak with an expert. The staff enjoys an excellent reputation for top customer service and great deals so don't wait to find out more.
Based in Los Angeles, The Beverly Hills Car Club has a large and growing inventory of classic cars for sale, from all makes, models and conditions. Come visit the showroom anytime or phone the team to inquire about the models they have in inventory. The representatives will welcome you in a hassle-free environment and will go the extra mile to ensure you get the information you're looking for.
Classic Bentley Coachbuilder Details:

Learn More About Classic Bentley Cars:

---

Sell us your car

Pick up from any USA location - Any condition - Top $$$ Paid

CONTACT US TODAY!