About Freestone & Webb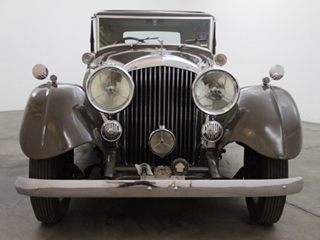 English coachbuilder Freestone & Webb was founded in 1923 by V.E. Freestone who learned the trade at Crossley Motors and A.J. Webb who trained in France. The company was based in workshops in North London and is known for the bodies they made for Rolls-Royce and Bentley. Freestone & Webb started showing their designs at the London Motor Show and the factory delivered up to 15 cars each year. The coachbuilder started experiencing financial difficulties when Rolls-Royce started to make complete cars indoors after World War II. A.J. Webb passed away in 1955 and the business was taken over by the Swain Group in 1957.
---
Looking to purchase a classic Bentley?

---
Freestone & Webb Classic Bentley Coachbuild Buyer's Guide
Aside from their many designs for Bentley and Rolls-Royce, Freestone & Webb created bodies for Alfa Romeo, Packard and Mercedes-Benz. Freestone & Webb has been credited for developing the Top hat style and popularizing the Razor Edge style. The coachbuilder won the Gold Medal in the private coachbuilders competition nine years in a row. Freestone & Webb designs are very desirable nowadays and have a lot of value. If you're looking for a particular model designed by Freestone & Webb, The Beverly Hills Car Club is one of the best resources. The staff is composed of professional classic car experts who have been operating in the classic car market for many years. They're dedicated to helping their clients and friends find the best model within their budget and giving best practice recommendations to facilitate a smooth transaction.
Come visit The Beverly Hills Car Club team dealership if you're nearby. The team is always available and ready to assist you. The representatives will help you find the Freestone & Webb design you're looking for, whether it's in their inventory or not. Thanks to their many contacts in the classic car industry worldwide, The Beverly Hills Car Club is best positioned to connect you with owners and sellers who have your dream car. Don't wait and get on the phone with one of the representatives at The Beverly Hills Car Club ! The team is looking forward to speaking with you soon.
Classic Bentley Coachbuilder Details:

Learn More About Classic Bentley Cars:

---

Sell us your car

Pick up from any USA location - Any condition - Top $$$ Paid

CONTACT US TODAY!