About Graber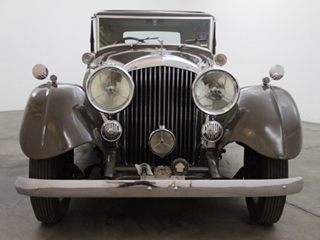 Graber was a coachbuilder based in Wichtrach, Switzerland, also known as Carrosserie Hermann Graber. The company made designs for a large number of US and European automakers between 1927 and 1970. Graber is particularly known for working closely with British firm Alvis, providing unique and elegant bodies for nearly 20 years. When Hermann Graber took over his father's wheel making business in 1924, he decided to reconfigure it to produce car bodies. The firm designed unique bodies for a large number of manufacturers who were making models delivered as rolling chassis. Hermann Graber died in 1970 and the coach building business stopped. The company kept operating, concentrating on repairs and maintenance. Graber became an official Ferrari importer between 1980 and 1996 and was bought by a Swiss classic car restorer in 2001.
---
Looking to purchase a classic Bentley?

---
Graber Classic Bentley Coachbuild Buyer's Guide
The first Graber design was a two-seater cabriolet FIAT 509, introduced in 1927. In 1929, the coachbuilder bodied a Panhard & Levassor 20 CV that won the St. Moritz Concours d'Elegance and made Graber famous. During the 1930s, Graber made a number of special designs for Alfa Romeo, Bentley, Bugatti, Duesenberg and Packard. The company then concentrated on the UK industry, working with Alvis, Bentley, Aston Martin, Rolls Royce, Lagonda and Rover. If you're interested in Graber designs, The Beverly Hills Car Club team would be happy to speak with you. The team is composed of classic car enthusiasts and experts who are always happy to share their knowledge with others. Moreover, the team has a large and growing inventory of classic cars for sale in Los Angeles and they welcome you to come visit anytime if you'd like to view the current collection.
The Beverly Hills Car Club team is available and ready to assist you anytime. Please don't hesitate to call and inquire about the current collection, or simply to ask questions about any classic. The team is known for their great offers and excellent customer service and they'll go the extra mile to provide you with the best experience.
Classic Bentley Coachbuilder Details:

Learn More About Classic Bentley Cars:

---

Sell us your car

Pick up from any USA location - Any condition - Top $$$ Paid

CONTACT US TODAY!