About Hooper and Co.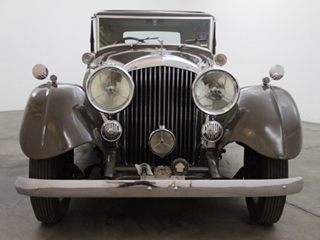 Hooper and Co. was a British coachbuilder of horse-drawn, then motor-powered carriages from 1805 to 1959. The company was founded as Adams and Hooper and supplied King William IV, Queen Victoria and King Edward VII. Hooper was specialized in high-end designs and luxurious bodies, usually amongst the most expensive designs. Sportiness wasn't a focus, but rather elegance and safety. Hooper and Co. turned to aircraft manufacture during World War I and then returned to coach building. Great success followed and the company even built a second factory during the Great Depression. At the peak of their activity in 1936, 400 bodies were made. Hooper acquired Barker in 1938 and was acquired by Daimler in 1940, becoming part of the BSA group. Daimler's production fell and Rolls Royce and Bentley were the main suppliers of rolling chassis. In 1970, Hooper became a Rolls-Royce distributor.
---
Looking to purchase a classic Bentley?

---
Hooper and Co Classic Bentley Coachbuild Buyer's Guide
Interested in Hooper and Co. designs? Come meet The Beverly Hills Car Club team and speak with the experts. The friendly staff is composed of experienced classic car specialists who are always happy to share their knowledge with other classic car enthusiasts. If you're wondering what models designed by Hooper and Co. are currently available on the market, the team would be more than happy to answer your questions. Based in Los Angeles, The Beverly Hills Car Club has a large inventory of classic cars for sale, including models designed by Hooper and Co. Check the online inventory to get an idea of current availabilities but don't hesitate to call the team and ask the experts if you don't find what you're looking for. The staff is adding new models to the collection regularly and has contact with buyers and sellers worldwide.
Don't hesitate to reach out to The Beverly Hills Car Club team today to hear all about their many services. The representatives enjoy an excellent reputation for top customer service and they'll go the extra mile to make sure you get everything you're looking for.
Classic Bentley Coachbuilder Details:

Learn More About Classic Bentley Cars:

---

Sell us your car

Pick up from any USA location - Any condition - Top $$$ Paid

CONTACT US TODAY!