About James Young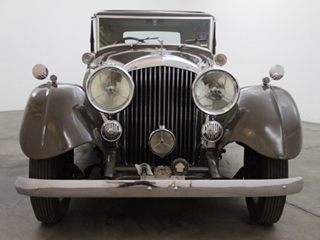 James Young was a British coachbuilder founded in 1863, originally producing horse drawn carriages. Their first car body was made in 1908 for a local member of parliament. James Young made a number of designs for Bentley customers from 1921 and also bodied other cars including Alfa Romeo, Sunbeam and Rolls Royce. Rolls Royce bought James Young in 1937 and during World War II; the factory was making airplane components. Bombing during the war destroyed the factory and all the records were lost. Coach building was resumed after the war with designs presented at the 1948 Motor Show. The last bodies from James Young were made in 1967.
---
Looking to purchase a classic Bentley?

---
James Young Classic Bentley Coachbuild Buyer's Guide
James Young was known for its sporty, elegant and efficient designs. Some of its best successes included the 1928 drophead Alfa Romeo coupe 6C 1500 Normale, the 1933 Rolls-Royce Phantom II sports saloon, the fixed head coupe Bentley 3.5 Litre, the drophead coupe 1935 Talbot BA 110, the 1948 Bentley Mark VI coupe, the 1954 Bentley R-type saloon, the 1957 Bentley S saloon, the 1961 Rolls-Royce V limousine, the Bentley Continental S3 and the fixed head coupe Rolls-Royce Silver Shadow. Should you be interested in any of those models of wish to hear more about James Young's designs, feel free to reach out to The Beverly Hills Car Club team and chat with one of the representatives. Their long-time experience in the classic car industry allows them to provide you with excellent service and advice when it comes to buying a classic. The staff is composed of classic car enthusiasts including experts in James Young's work who will discuss the best models and best options for you.
Connect with The Beverly Hills Car Club team today to speak with the experts and get started with your project of buying a classic James Young design. The team is ready to assist you and looking forward to working with you on your project. Don't wait and get started today!
Classic Bentley Coachbuilder Details:

Learn More About Classic Bentley Cars:

---

Sell us your car

Pick up from any USA location - Any condition - Top $$$ Paid

CONTACT US TODAY!