About Mann Egerton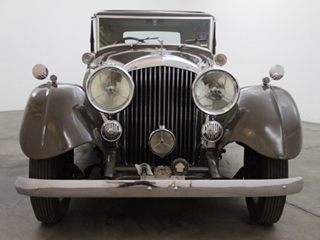 Mann Egerton & Company was a British aerospace and automotive company founded in 1905 and headquartered in Norwich. The company's operations varied between auto retailing, coach building, aircraft manufacturing and electrical services. The first custom car body by Mann Egerton was made for Rolls-Royce in 1909. During World War I, Mann Egerton was requested to build aero planes and the company later produced their own Type B model, based on the Short Type 184 they had developed under license. During World War II, Mann Egerton was making car bodies for the government, including the coachwork for the Austin K2/Y ambulance. The electrical department of the company was sold to the Westinghouse Brake and Signal Company in 1964, Inchcape acquired Mann Egerton in 1973 and the coach building business was sold to Bonallock Coachbuilders.
---
Looking to purchase a classic Bentley?

---
Mann Egerton Classic Bentley Coachbuild Buyer's Guide
Mann Egerton coachwork provided much individuality and superior quality, and the company was also known for making refrigerated vehicles for companies including Findus and Birdseye. The Beverly Hills Car Club team is a great resource when looking to buy a classic car. Not only does their dealership offer a large selection of classics for sale, but also the staff is in contact with sellers worldwide to help you find the exact model you're looking for. The team is dedicated to assisting you with the research and purchase of the right classic, one that fits your budget and has all your requirements. Please don't hesitate to reach out to the representatives to chat about classics in general. The staff is composed of classic car enthusiasts with many years of experience and extensive knowledge of all makes, models and decades.
If you're interested in Mann Egerton designs, The Beverly Hills Car Club team is your best ally. The team will guide you through the research and purchase of your future classic and help you made the best possible transaction. Get in touch soon, the team is looking forward to speaking with you soon.
Classic Bentley Coachbuilder Details:

Learn More About Classic Bentley Cars:

---

Sell us your car

Pick up from any USA location - Any condition - Top $$$ Paid

CONTACT US TODAY!