About Park Ward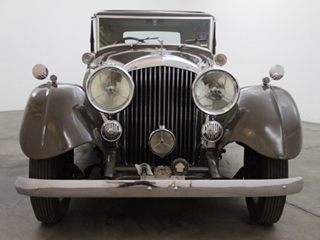 Founded in 1919, Park Ward was a British coachbuilder known for its technical advances allowing the manufacturing of all-steel bodies used on Rolls-Royce models. Park Ward was making bodies for a variety of makes in the early 1920s and became associated with Bentley in Cricklewood. After Rolls Royce took over Bentley in 1931, Rolls Royce took a stake in Park Ward. Post the Second World War, Park Ward continued to build special coachwork and the all-steel technology was used by Rolls Royce to make the Mark VI. Park Ward was bought by Rolls Royce in 1939 and became part of Mulliner-Park Ward group in 1961.
---
Looking to purchase a classic Bentley?

---
Park Ward Classic Bentley Coachbuild Buyer's Guide
Manufacturers like Rolls-Royce or Bentley delivered their cars to customers as rolling chassis, and the client would then commission a coachbuilder to create the body and interior of the new model, based on their preferences. As such, there are many very unique classic car designs available nowadays. One of the most famous Park Ward designs was the one made for Captain Cuthbert W. Foster, heir to the Bird's Custard fortune. The car was a Bugatti Royale, exposed at the national auto museum in France. Should you wish to hear more about Park Ward designs, The Beverly Hills Car Club team would be delighted to chat with you. The staff has an extensive knowledge of all coachbuilders and enjoys sharing their expertise with other classic car enthusiasts. Moreover, The Beverly Hills Car Club team owns a large collection of classic cars for sale, including models of all makes and decades. Regardless of your budget, be assured that The Beverly Hills Car Club team is the best resource to helping you find exactly what you're looking for.
The Beverly Hills Car Club is available and ready to assist you so don't hesitate to call the team and have a conversation with one of the representatives. They'll answer any questions you may have and welcome you in a hassle-free environment.
Classic Bentley Coachbuilder Details:

Learn More About Classic Bentley Cars:

---

Sell us your car

Pick up from any USA location - Any condition - Top $$$ Paid

CONTACT US TODAY!