About Ramseier Brothers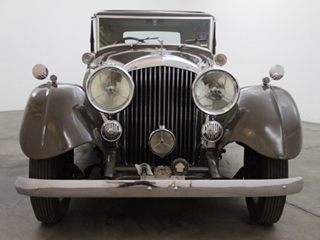 The Ramseier Brothers were famous in the auto world for owning and designing a number of very prestigious models. Two main coach building companies are known in the Ramseier family: Carrosserie Worblaufen near Bern and Carrosserie Ramseier in Bern and Biel. Carrosserie Worblaufen specialized in luxury automobiles with sporty and elegant bodies. The Ramseier Brothers were known for the high quality of their products and for making convertible tops that were easy to operate. Some of the models made by the Ramseier Brother command a very high value nowadays. The Bentley Mark VI drophead is a highly sought after classic for example, and was designed by Fritz Ramseier. Bentley models of the era were fitted with coachwork from individual coachbuilders, at the request of the customer. The models came in the shop as rolling chassis and were equipped with tailored and bespoke interior and bodies.
---
Looking to purchase a classic Bentley?

---
Ramseier Brothers Classic Bentley Coachbuild Buyer's Guide
The Ramseier Brothers bodied a number of rare and extremely valuable classics. Carrosserie Worblaufen worked with Alfa Romeo, Bentley, BMW, Bugatti, Citron, Delahaye, Jaguar, Lancia, Mercedes-Benz and Talbot-Lago. The Bugatti Type 57 Grand Raid Roadster and the Delahaye Type 135 were two of the firm's major creations. Should you be interested in learning more about the models made by the Ramseier Brothers or looking for a particular example, The Beverly Hills Car Club is a good place to start. The team has a large inventory of classic cars for sale in Los Angeles and the representatives are very knowledgeable when it comes to classic cars. The staff will be able to tell you what is currently available on the market, either in their collection or in the larger scene, and advise you on the value and buying processes.
Get in touch with The Beverly Hills Car Club team today to find out about their offers and services. The Beverly Hills Car Club is a number one destination for all classic car related inquiries. The friendly staff is dedicated to helping you find a good deal and looking forward to working with you soon.
Classic Bentley Coachbuilder Details:

Learn More About Classic Bentley Cars:

---

Sell us your car

Pick up from any USA location - Any condition - Top $$$ Paid

CONTACT US TODAY!