About Rippon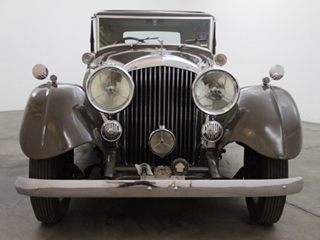 Rippon Bros was a family coach building company founded in 1870, in Huddersfield, West Yorkshire. Rippon was closely allied with Rolls-Royce and made nearly all of the coachwork for Rolls-Royce models up until 1958. Rippon Bros was known for the high quality of its coachwork and in 1963, Rolls-Royce presented the firm with an award to commemorate the delivery of the 1,000th Rolls-Royce and Bentley. Joseph Rippon was the founder of Rippon Bros coach building business and from 1949 to 1969, Joseph's son Colonel Reginald Rippon was the company's chairman and managing director. After Col Rippon's death in 1970, Appleyard of Leeds acquired Rippon Bros.
---
Looking to purchase a classic Bentley?

---
Rippon Classic Bentley Coachbuild Buyer's Guide
The Rippon brothers made some bodies for Queen Elizabeth I and Mary Queen of Scots and had an exclusive manufacturing deal with Rolls-Royce, for which they created some iconic designs. Should you be looking into purchasing a classic car designed by Rippon, The Beverly Hills Car Club would be happy to help. Based in Los Angeles, the team has been buying and selling classic cars of all makes and models for many years. The staff is composed of experienced and enthusiastic gear heads with a strong dedication to matching drivers and cars. Whether you're looking for a very special model with a high value or a more affordable classic, The Beverly Hills Car Club will help you find it. Not only does the team have connections all over the world, but also, their collection of classic cars is one of the most impressive in the country. Please don't hesitate to stop by if you're in the neighborhood or give the team a call to inquire about their current availabilities.
The Beverly Hills Car Club is available and ready to assist you with the research and purchase of your future classic car. If you're looking for a special design by Rippon, the team will be able to tell you what's currently available and help you define a budget. Connect today and get started!
Classic Bentley Coachbuilder Details:

Learn More About Classic Bentley Cars:

---

Sell us your car

Pick up from any USA location - Any condition - Top $$$ Paid

CONTACT US TODAY!