About Saoutchik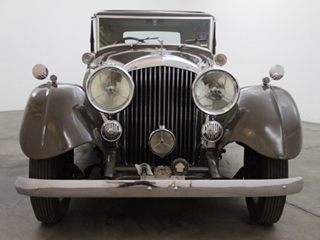 Russian-born Jacques Saoutchik founded this coachbuilder during the late 20th century following a well-established career in cabinetry. Regarded in some circles as one of the wildest, and most avant-garde coachbuilders of all-time, Saoutchik was a high-end builder that became famous during the 1930s for their combination of high-quality and oft-extravagant designs. The French coachbuilder styled bodies for many of the most prominent brands of the time, including Bugatti, Delahaye, Pegaso, Cadillac, and others. The flamboyant Jacques passed in 1955, moving ownership of the company into the hands of his son, Pierre. This unfortunately coincided with many of the luxury car makers going out business, and ostentatious coachbuilder collapsed along with them.
---
Looking to purchase a classic Bentley?

---
Saoutchik Classic Bentley Coachbuild Buyer's Guide
Based in Los Angeles, California, The Beverly Hills Car Club is a number one destination when it comes to buying, selling or renting a classic car. The team is composed of classic car experts and enthusiasts who are always happy to help other gear heads with their classic car needs. The representatives will answer any questions you may have regarding classic cars of all makes, models and decades. What's more, the team is in contact with buyers and sellers worldwide. Therefore, they're best positioned to help you find the model that meets your needs and requirements the best. The friendly staff will also share some best practice recommendations for your classic car purchase, to ensure you make a good transaction. One thing to know when buying a classic is that maintenance records and history of ownership can give you a lot of valuable information that can help you evaluate the condition and value of the model more accurately.
The Beverly Hills Car Club team welcomes the opportunity to earn your business. The staff is known for their excellent customer service and dedication to helping their customers have a positive and memorable experience. The team will also stay at your disposal throughout the ownership experience. Please don't hesitate to get in touch with the friendly staff today and get started on the search for your dream classic.
Classic Bentley Coachbuilder Details:

Learn More About Classic Bentley Cars:

---

Sell us your car

Pick up from any USA location - Any condition - Top $$$ Paid

CONTACT US TODAY!