About Thrupp & Maberly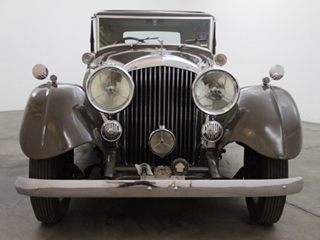 Thrupp & Maberly was a British coach building firm based in West London. Thrupp & Maberly operated for more than two centuries until 1967 and are famous for providing coachwork for Queen Victoria. After the First World War, Thrupp & Maberly built bespoke bodies for high-end European car makers. The company's premises were moved to Cricklewood in 1924, with a showroom in West London and the Roots brothers bought the business. Thrupp & Maberly remained the brand for prestigious coachwork, building bodies for Rolls-Royce, Daimler and Bentley vehicles. After World War II, the market for coach-built automobile was in decline and the company concentrated on special coachwork for the Roots Group vehicles such as the open-top Humbers.
---
Looking to purchase a classic Bentley?

---
Thrupp and Maberly Classic Bentley Coachbuild Buyer's Guide
One of the famous designs by Thrupp & Maberly was the body made for the Golden Arrow, Sir Henry Segrave's land speed record car. The Beverly Hills Car Club is your number one resource for all classic car needs. The team of knowledgeable and experienced classic car experts has gained an unmatched expertise of the classic car industry thanks to their many years of experience. The staff would be more than happy to answer your questions regarding the different models bodies by Thrupp & Maberly or concerning The Beverly Hills Car Club team services. One thing the team is really helpful with is assisting their clients with finding classics that meet their needs, requirements and budgets, as well as defining a budget for purchase and maintenance. Finding the right classic can be a hassle and picking a car that's not in good shape will cause you more trouble than enjoyment, so take the time to research the market and inspect the models you're looking at thoroughly before making a decision!
Please don't hesitate to reach out to The Beverly Hills Car Club team to get started on your classic car project. The team is ready help you and looking forward to speaking with you soon. Get connected today, the team is only one phone call away!
Classic Bentley Coachbuilder Details:

Learn More About Classic Bentley Cars:

---

Sell us your car

Pick up from any USA location - Any condition - Top $$$ Paid

CONTACT US TODAY!