About Vanden Plas and Windovers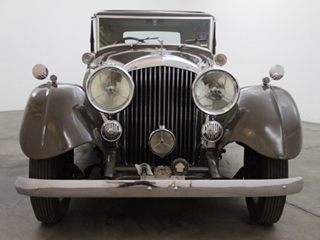 Vanden Plas and Windover, a substantial coachbuilder for the time, was conceived in Brussels, Belgium in 1870. Initially, their work focused on batch and bespoke coachwork, and by 1900, they had worked with Germain and Packard, among others. Following the conclusion of the First World War, their production became closely aligned with Bentley, and from 1924 to 1931, Vanden Plas and Windover had built nearly 700 of their bodies for Bentley chassis. By this period, the business had been incorporated in England and shifted between the English cities Hendon and Kingsbury under the purview of the Fox brothers.
---
Looking to purchase a classic Bentley?

---
Vanden Plas and Windovers Classic Bentley Coachbuild Buyer's Guide
Should you be interested in learning more about Vanden Plas and Windover, The Beverly Hills Car Club team would be happy to answer your questions. Based in Los Angeles, California, the team has a large inventory of classic cars for sale, ranging from pristine condition examples of rare models such as the ones bodies by Vanden Plas and Windover, to more common and affordable classics. The team welcomes you in a friendly environment anytime and the staff is dedicated to helping you with anything related to classic cars. Not only will they provide you with useful tips and advice when it comes to buying a classic, but also the staff will go the extra mile to assist you with the search for the perfect classic. One recommendation The Beverly Hills Car Club team often shares with their clients and friends is to make sure you carry out a complete pre-purchase inspection before buying a classic, so that you are fully aware of the condition and value of the car.
Connect with The Beverly Hills Car Club team today to hear all about their offers and services. The staff enjoys an excellent reputation for good deals and top customer service. Come view their current inventory of classics for sale anytime and don't hesitate to call if you're not near their location; the team is used to dealing with buyers and sellers worldwide.
Classic Bentley Coachbuilder Details:

Learn More About Classic Bentley Cars:

---

Sell us your car

Pick up from any USA location - Any condition - Top $$$ Paid

CONTACT US TODAY!