About Vanvooren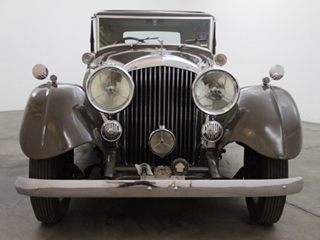 Carrosserie Vanvooren, known alternatively as simply Vanvooren, was a French coachbuilder that resided in the northwestern Parisian suburb Courbevoie. A luxury coachbuilder, Vanvooren was closely associated during the early 20th century with Hispano-Suiza, Bugatti, Rolls-Royce, and Bentley. It experienced somewhat of a 'golden age' during the 1930s, although its total existence spanned nearly 40 years having begun operations in 1910 and closed by 1950. During the 1930s, Vanvooren found a perfect wind, having caught the mood of the luxury public with a blend of conservative elegance and high-quality standards. During this time, extensive work was done with Bentley, with Vanvooren producing 69 bodies for the automaker, including 7 Bentley Mark Vs.
---
Looking to purchase a classic Bentley?

---
Vanvooren Classic Bentley Coachbuild Buyer's Guide
Should you be interested in learning more about Vanvooren designs, The Beverly Hills Car Club team is a great resource. Based in Los Angeles, their dealership is the home for a large and growing collection of classics, including models of all makes and decades. The staff is composed of experts in all classics, who are available and ready to assist you by answering any of your questions and assist you with the search for your dream classic. Come visit their Los Angeles dealership anytime if you're in the area but don't hesitate to call the team for help wherever you are. The representatives are used to deal with classic car sellers worldwide. The team's commitment to top quality customer service gave them a reputation as best classic car organization. If you're looking to purchase a Vanvooren classic, please don't hesitate to call the team and ask for their best practice recommendations. They'll give you a complete list of tips adapted to your needs, to ensure you make the best possible transaction.
The Beverly Hills Car Club team is at your disposal, available and ready to assist you with the search and purchase of your future classic car. Come visit the Los Angeles showroom and view the impressive collection anytime. Call the team and ask to speak with a classic car specialist to hear more about the team's offers and services.
Classic Bentley Coachbuilder Details:

Learn More About Classic Bentley Cars:

---

Sell us your car

Pick up from any USA location - Any condition - Top $$$ Paid

CONTACT US TODAY!