Buying A Mercedes Benz 300S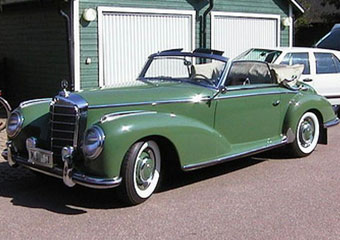 Perhaps one of the most desired and rare Mercedes Benz automobiles, the Mercedes Benz 300S and 300SC series cars were top of the line cars. First shown in October 1951 at the Paris Salon, these two-door luxury automobiles relied heavily on the technology of the Type 300 yet presented the old world, hand crafted workmanship and classic styling that has become iconic over the decades. Initially, the 300 S was available in two body styles; a fixed roof coupe with an elegantly formal air, and a convertible with functional landau bars. A third style would later be specified, which had no landau bars and a top that completely disappeared when folded. Advanced for its day, Mercedes raised the engine compression over the 300B, 300C and 300D models to7.8:1 using 3 Solex downdraft carburetors, which resulted in 150 horsepower at 5000 rpm, meaning the car could exceed 100 km/hr in less than 15 seconds and a top speed of almost 180 km/h.
---
Looking to purchase a Classic Mercedes?

---
Mercedes Benz 300S Buyer's Tips
Only 560 examples of the Mercedes Benz 300S were released between September 1951 and August 1955. Of these, 216 units were coupes, 203 were cabriolets, and 216 were roadsters. Prices can vary widely for these models depending on their body style and their condition. For example, a pristine 300S roadster can fetch upwards of $250,000, while a poor condition 300S coupe can start in the low $20,000's. It is also important to keep in mind that due to the high cost of restoration, mint examples of these cars have sold for far more. When looking to buy Mercedes 300 models or to buy classic Mercedes of any model, it is imperative to work with a team of experts like those at The Beverly Hills Car Club to ensure you are in fact looking at an original. Remember, a number one asking price is not always representative of a number one car.
When purchasing the Mercedes Benz 300S, it is important to find a complete, unchanged car, as items on the exterior of this auto are particularly hard to find and unique to this model. For more help and information, please do not hesitate to contact the team at The Beverly Hills Car Club today. They look forward to hearing from you and to helping you find your dream 300S today! Connect now.
Mercedes Benz 300S Production Years:
Spread the word!
---
We Also Buy Classic Mercedes 300S's In Any Condition, Top Dollar Paid.
And We Pick Up Anywhere In The USA.
---