Buying or Selling a 1971 Rolls Royce Silver Shadow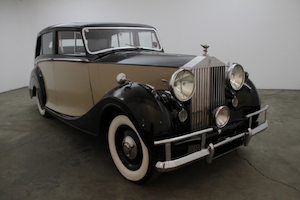 The Rolls-Royce Silver Shadow is a timeless masterpiece that helped set the standard for luxury automobiles in the 1960s and 70s. The 1971 Rolls-Royce Silver Shadow comes with a powerful 6750cc V8 engine that puts out nearly 200 hp and can reach 120 mph, as well as an upgraded three-speed automatic gearbox that replaced the four-speed version in 1968. The four-wheel disc brake system and self-leveling rear suspension make the Silver Shadow the benchmark of safe and comfortable handling. Rolls-Royce spent a lot of time making sure that the Silver Shadow was an enjoyable car to ride in, which is why it lacks the annoying cabin noise that's common in many other classic cars. Rolls-Royce released the Corniche in 1971. While these were essentially two-door Silver Shadow coupes, this move limited Silver Shadows from '71 onward to four-door sedans. The '71 Silver Shadow comes with a 119.5″ wheelbase or a long-wheelbase version, which is 123.5″.

---
Looking to purchase a classic Rolls Royce?
---
1971 Rolls Royce Silver Shadow Buyers Guide
Because the Silver Shadow was one of the companys most popular luxury models, finding a 1971 Rolls-Royce Silver Shadow won't be an impossible task. Despite being the top luxury vehicle of the time, the Silver Shadow's high production rate means that you can find a car for sale at a reasonable price. Many collectors ask between $10,000 and $30,000 for their Silver Shadows, making it one of the most affordable Rolls-Royce models around.

If youre interested in buying a Silver Shadow, make sure that you consult a professional before you make any purchasing decisions. There are a number of Silver Shadows on the market that havent been properly maintained, so its important that you employ the services of a classic car inspector. The team of professionals at the Beverly Hills Car Club are happy to help you get the car of your dreams, including the Silver Shadow. They can answer any questions that you have and are even able to assist you with finding a classic car thats in top condition. Give them a call today to learn more!

Learn More About Classic Rolls Royce Phantom:
Spread the word!
---
We Also Buy Classic 1971 Rolls Royce Silver Shadow In Any Condition, Top Dollar Paid.
And We Pick Up Anywhere In The USA.

---