Buying or Selling a Rolls Royce Corniche II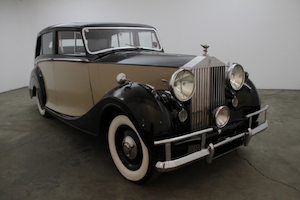 An update for the gorgeous 2-door with the daring design, the Rolls Royce Corniche II was exclusive to the U.S market. There would be some changes from the Corniche such as anti-lock brakes as well as the addition of alloy and rubber bumpers rather than chrome ones. Featured were new rims, an interesting pattern around the rear license plate, and wider more comfortable seats, but the Corniche II was mostly identical to the Corniche mechanically. It had a 6.7 Liter V8 engine offering a top speed of 120 mph, independent four-wheel suspension, and precise four-wheel disc brakes that kept the vehicle well under control even when making an abrupt stop.
It carried on the same pop-out aesthetic as the Corniche, where every angle holds new dimensions of excellence in the vein of all Rolls Royce vehicles since the original Silver Ghost stunned audiences in 1907.
---
Looking to purchase a classic Rolls Royce?
---
Rolls Royce Corniche II Buyers Guide
By the time of the Rolls Royce Corniche II, Rolls Royce Motors had been acquired by Vickers and the company was well apart from where it was just a decade ago. While still a coveted luxury brand, no longer were the days of ultra-exclusive custom-to-order cars. A Rolls Royce in 1986 was factory-built and mass-produced, so the key to value lays in less-produced variants like coupes in the case of the Corniche II. Youll also want to remember that there are no European Corniche IIs, so unless its license plate is American and its steering on the left-hand side, its not a Corniche II. Now if you do have Corniche II on your hands, it will be important to give the car a checkup, searching for rust or mildew and anything out of place in the cars innards. You might take that as a challenge if you get a kick out of completing difficult restorations, but this is still important for gauging ultimate value. Of course its easiest to hand these things off to the professionals who can detailed evaluation.
At the Beverly Hills Car Club expertise is as plentiful as enthusiasm. People come from all over to see their selection of every classic car you can imagine and do business with a dealer whose repute is never in question. Come on down or give them a call if you have questions. You wont regret it!
Spread the word!
---
We Also Buy Classic Rolls Royce Corniche II In Any Condition, Top Dollar Paid.
And We Pick Up Anywhere In The USA.

---