Buying or Selling a Rolls Royce Phantom IV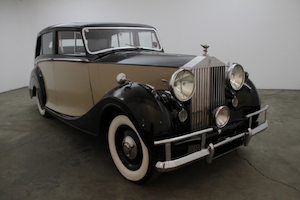 Half a decade after the end of the Second World War Rolls Royce Limited would see the Phantom revived. In the Rolls Royce Phantom IV they would again display the more intrepid side of their nature. It was the only Rolls Royce motorcar to utilize a straight-8 F-head engine in the B-80 and later B81. Its wheelbase at 229 inches was 13 inches longer than the largest Silver Wraith chassis allowing for likely the most magnificent coachwork of any Rolls Royce. A 7-seat Limousine variant of the Phantom IV with coachwork by H.J. Mulliner was to become an official state car of the United Kingdom accompanying Princess Elizabeth II to her coronation, and more recently appearing at the wedding of Prince William of Wales to Kate Middleton. It would in fact become something of a monarchal accessory being sold exclusively to royalty and heads of state from Spain to Iran. This small range of custom production would make it the rarest model Roll Royce ever produced with only 18 chassis being built.
---
Looking to purchase a classic Rolls Royce?
---
Rolls Royce Phantom IV Buyers Guide
While ownership of a Rolls Royce Phantom IV is a somewhat exclusory club, rarity is still an important factor in making any valuations of a classic car. The Phantom IVs massive chassis might distinguish it from the Silver Wraith or other concurrent models. But youll want to take all steps necessary to ensure a vehicle is genuinefrom checking the VIN on the engine, transmission, and rear axle to opening it up and making sure that all parts and replacement parts are Rolls Royce original and not knock-offs. Youll also need to make a thorough sweep for rust and other imperfections. This can be a tiresome process when you just want to hop in and take it home, but caution and care always pays off in the long run.
At the Beverly Hills Car Club youll find a team of experts who dedicated years to classic cars and developed the knowledge and well-honed skills to secure your satisfaction. If you want a business you can trust to earnestly aid you in your search for the classic car of your choice, consider talking to a member and getting on the road to paradise.
Spread the word!
---
We Also Buy Classic Rolls Royce Phantom IV In Any Condition, Top Dollar Paid.
And We Pick Up Anywhere In The USA.

---