Buying or Selling a Rolls Royce Phantom V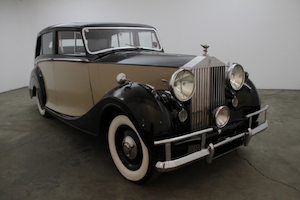 The Rolls Royce Phantom V was a class apart from its predecessors in a number of ways, most notable being its status as the first Phantom to have a standardized body built by coachbuilders owned by Rolls Royce such as Park Ward and H.J. Mulliner rather than the independent work done on previous models. This would result in a Phantom that oozed class with its Parthenon-style grill and sleek, elongated frame that gives the effect of a limousine even on the Saloon and Laundaulette variants. It had a new aluminum V8 engine and 4-speed automatic transmission similar to the Silver Cloud III whose production would coincide with the Phantom Vs. From 1963 onwards all models were fitted with quad headlamps and a more powerful engine that would also see use on the Silver Cloud III. Several important world figures would own Phantom Vs such as Elizabeth II and John Lennon, attesting to the timeless appeal of Rolls Royce at all levels of society.
---
Looking to purchase a classic Rolls Royce?
---
Rolls Royce Phantom V Buyers Guide
Classic cars are everything to the Beverly Hills Car Club. They dont just want sell cars; they want to preserve history and share their passion with others of a similar persuasion. Thats why they advise you to seek out an inspector with the proper qualifications before making any bid for a car of the Phantom Vs age. Even the most flawless motor vehicles arent invulnerable to the ravages of time and a careful regimen of maintenance is necessary to keep them in top shape. Its common for haphazard repairs or unfortunate circumstance to drive down the value of a car, and thats why they implore you to seek out professional help and get the most out of your money.
The Beverly Hills Car Club can offer tips, special information on a specific vehicle, or guidance as to the ins-and-outs of the buying process. Dont rely on your intuition when you dont have to. Call now and get the facts that will guarantee a safe purchase.
Spread the word!
---
We Also Buy Classic Rolls Royce Phantom V In Any Condition, Top Dollar Paid.
And We Pick Up Anywhere In The USA.

---