Buying or Selling a Rolls Royce Phantom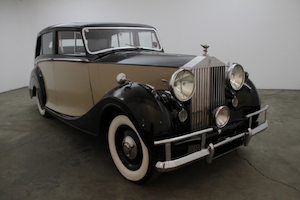 The Rolls Royce Phantom or New Phantom as it was called when it premiered to carry on the theme of the mythic Silver Ghost. It was then as now a bold example of the larger Rolls Royce catalogue. With a supped up engine at 2750 RPM compared to the Ghosts 2250, it roars like the decade of its birth. When the U.S version was produced in 1926 it would retain some small difference from the U.K. version with a 3-speed transmission rather than a 4 speed, a longer wheelbase, and other slight differences. Like most Rolls of the time, the Phantoms performance and appearance can vary depending on the coachwork, which could have been done by any of several companies depending on the customers tastes. This is very different from the more uniform cars we have today with every Phantom having its own distinct character from a plucky Coupe de Ville to an almost regal Limousine.
---
Looking to purchase a classic Rolls Royce?
---
Rolls Royce Wraith Buyers Guide
If visions of owning a phantom are haunting you, youll want to develop a keen eye, as numerous key factors can be overlooked when in the market for a classic car. While the Phantom isnt as rare as some others that have sported the Spirit of Ecstasy, its still important to verify all = claims as to the nature and authenticity of the vehicle and seek out proper inspection. Finding out that youve bought the wrong caror worseto find that special car only to learn that its falling part are a much bigger hassle than taking the precautions to ensure your money is well-spent. Youll want to find someone with the correct pedigree, who can identify even the smallest idiosyncrasies in a car.
At the Beverly Hills Car Club every member is one such expert willing to take the time and care thats needed to see every buyer satisfied with their car and their investment. Come on down to their pristine Los Angeles showroom or call nowtheyll give their best for you.
Spread the word!
---
We Also Buy Classic Rolls Royce Phantom In Any Condition, Top Dollar Paid.
And We Pick Up Anywhere In The USA.

---