Buying or Selling a Rolls Royce Silver Cloud III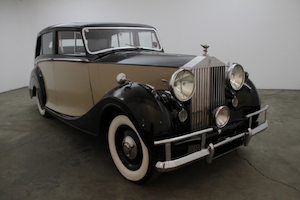 The third and final edition of the Silver Cloud, the Rolls Royce Silver Cloud III saw some of old trappings melt away with a lighter, livelier build and modern quad headlamps. However, the perennial grace that defined Rolls Royce for over half a century would still be front and center. The transmission was a 4-speed Hydramatic from General Motors, which Rolls Royce Ltd had licensed, but the engine was more enigmatic with the company refusing to release detailed performance information. Later they would intimate an improvement of perhaps 7%. Like with previous models, small changes would be made throughout its production run such as stainless steel wheel trims in 1963 and wider seats in 1964. Chassis and accompanying coachwork would remain much the same as the Silver Cloud II with a later exception being the Chinese Eye by Mulliner Park Ward, which was offered as a fixed, or drophead coupe with slanted headlights that gave the car a more aggressive demeanor.
---
Looking to purchase a classic Rolls Royce?
---
Rolls Royce Silver Cloud III Buyers Guide
Buying a classic Rolls Royce or any classic car can be a scary thing. Any transaction has its risks and its rewards, but getting the most out of your classic car purchase can be tricky. Youll need to be observant and look out for signs of a poor deal. If a car has rust spots you should seek out a professional inspector before taking things any further. Really, its always the best option to seek more experienced council. There are details amateur eyes simply wont see. Those with years of expertise can have a special intuition about a car and can speedily make accurate value assessments. They could hand you the deal of a lifetime or save you from some nasty surprises down the road.
At the Beverly Hills Car Club every member is a seasoned veteran in this field and will make every attempt to help. Call now for information on specific models like the Rolls Royce Silver Cloud III or general buyers tips and the state of the market right now. For the Beverly Hills Car Club, happy customers are the first priority.
Spread the word!
---
We Also Buy Classic Rolls Royce Silver Cloud III In Any Condition, Top Dollar Paid.
And We Pick Up Anywhere In The USA.

---