Buying or Selling a Rolls Royce Silver Ghost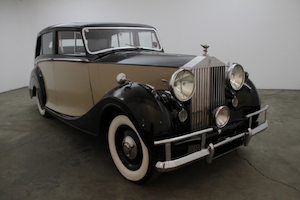 Once called the Best car in the world by Autocar magazine, the Rolls Royce Silver Ghost is certainly one of the most prolific, striking figures in the world of classic cars. Originally designated the 40/50 hp after its rate of taxable horsepower, the name Silver Ghost comes from a special car ordered by Claude Johnson in 1907 with hopes to build publicity for the new 40/50s. This inimitable specter was dubbed so for its aluminum paint, silver fittings, and hushed engine noise. Its not inappropriate that theres also a comic book character who bears the name, as the car resembles some Batmobilesque superhero hot rod from the golden age.
The original AX 201 Silver Ghost is in fact known as the most valuable car in the world, estimated to go for about forty-eight million dollars if it was to be put on auction. In 1925 the New Phantom would take up the mantle and all of the older 40/50s would officially adopt their unofficial nickname to hence be called Silver Ghosts.
---
Looking to purchase a classic Rolls Royce?
---
Rolls Royce Silver Ghost Buyers Guide
Any Silver Ghost you come across is likely to be somewhere between worn and positively ancient. Thats to be expected from a vehicle that existed through most of the 20th century and into the 21st. While every Silver Ghost was built to exacting Rolls Royce standards of quality and many have survived incredibly wellits not surprising that some are showing their age by now. Nothing is impervious to time and thus it is imperative that a Silver-Ghost be inspected so prospective buyers and sellers alike have a good idea of its condition. Rust can be pernicious and develop completely unbeknownst to the untrained observer, which is why anyone interested in purchasing a Silver Ghost would benefit from the expertise found at the Beverly Hills Car Club!
Theyll identify and locate the car you want and give you accurate information as to its current state, from any damage its incurred during its life to the ratio of original and replacement parts, and doubtless offer you a fair price. If youre looking for a competent trustworthy business to help you along, reach out to the true professionals at Beverly Hills Car Club. You will not be disappointed
Spread the word!
---
We Also Buy Classic Rolls Royce Silver Ghost In Any Condition, Top Dollar Paid.
And We Pick Up Anywhere In The USA.

---