Buying or Selling a Rolls Royce Silver Wraith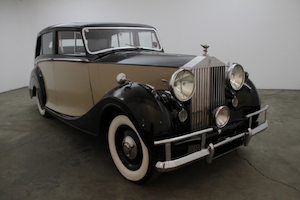 As the Wraith was the last pre-war Rolls Royce, the Silver Wraith was first post World War II auto and Rolls Royce Ltd.s service to the Allied cause in the shape of aircraft parts and other materiel. It was announced as the encore for that line to which the 1939 Wraith and the 25/30 could claim membership, the string of smaller Rolls Royce cars. It was decided that a conservative vehicle would be a more appropriate gambit in an economy still spent from the war. The Silver Wraith would keep with the formula of a Rolls Royce chassis and mechanical parts with independent coachwork by builders like Park Ward and Hooper, but would be one of the last to follow what was becoming a dated model. Its wheelbase was about 127 inches (though a 133 inch was made available in 1951) and used a six-cylinder F-head engine originally designed for the cancelled Bentley Mark V.
Independent front suspension improved stability and handling, while synchromesh made manually shifting gears much smoother. In 1952 a Hydramatic automatic transmission from General Motors would become an option.
---
Looking to purchase a classic Rolls Royce?
---
Rolls Royce Silver Wraith Buyers Guide
The Rolls Royce Silver Wraith was a very busy car owned by world leaders from Brazil to Denmark and appearing in feature films from James Bond to Batman. But you dont have to win an election or star in a movie to own one. Youll just need to exercise certain precautions as with any high-sum transaction. The importance of proper inspection and liberal research cant be understated. Thats why when purchasing any classic car you need to check the VIN, make a thorough sweep of the vehicle searching for rust and any other irregularities, and gather any information you can on the vehicles history and specifications. This will maximize the value proposition and allow you to form an accurate assessment of conditions youll be buying under. Of courseunless you yourself are oneits always safest to consult a professional.
There are some things amateurs simply arent attuned to. Thats why we have businesses like the Beverly Hills Car Club who employ their unparalleled skill and experience to help newcomers and veterans alike understand whats what. Try giving them a call if youre unsure about an aspect of the buying process or a particular car. Theyre always ready to give a hand!
Spread the word!
---
We Also Buy Classic Rolls Royce Silver Wraith In Any Condition, Top Dollar Paid.
And We Pick Up Anywhere In The USA.

---