Buying or Selling a Rolls Royce Twenty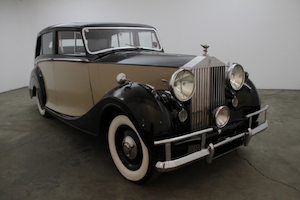 Billed as a smaller alternative to The Silver Ghost and Phantom in an attempt to catch the more independent driver, the Rolls Royce Twenty was dubbed the Baby Rolls in the United States. Coming into the fore in 1922, the Twenty was built with the same precise detail and excellent quality the Ghost had come to be known for. As a testament to its timeless appeal, one cabriolet variant was ordered by The Prince of Wales in 1923, and others would feature in several movies over the years. A Post-1925 Twenty is distinct for its four-speed gearbox as opposed to the awkward three-speed found on earlier models, as well as a more effective four-wheel brake system. But all sported a six-cylinder engine over the four-cylinder like the original 1906 20hp. It was capable of reaching over 60 mph with the recommended weight specifications (40 mph was an impressive cruising speed for the time.)
However, many buyers chose to purchase bulkier limousine bodies that naturally hampered performance. This of course was entirely normal as each car had custom-fitted bodywork done by respected coachbuilders of the day. As such, the Twenty can have a recognizably nineteenth century appearance reminiscent of a horse-drawn carriage, a quality that is particularly strong in Laundalette versions.
---
Looking to purchase a classic Rolls Royce?
---
Rolls Royce Twenty Buyers Guide
Since each Rolls Royce Twenty is something of a custom job, its very important to know the cars background and the specific qualities of its build. A Twenty with an ostentatious limousine body is going to be worth more than a Twenty with a standard tourer body. Even a seemingly insignificant detail such as the material the seats are made of could impact the value of the Twenty youre seeking to purchase. Youll want to gather all the information you can to ensure the vehicle is valued correctly, sooner rather than later.
Instead of enduring this rather complicated process, you could consult with the Beverly Hills Car Club! Theyll find your vehicle and verify all of the essential points to ensure that your desires are met. Please consider contacting them today!
Spread the word!
---
We Also Buy Classic Rolls Royce Twenty In Any Condition, Top Dollar Paid.
And We Pick Up Anywhere In The USA.

---